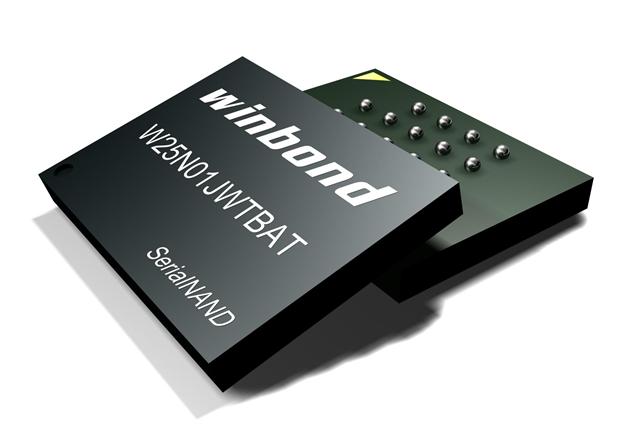 Winbond Electronics' W25N01JW is a high-performance, 1.8V serial NAND flash memory IC delivering a data-transfer rate of 83MB/s via a quad serial peripheral interface (QSPI). The new high-performance serial NAND technology also supports a two-chip dual quad interface which gives a maximum data transfer rate of 166MB/s.
The Winbond 1.8V W25N01JW chip can replace SPI NOR flash memory in automotive applications, such as data storage for instrument clusters or the center information displays (CIDs), the company indicated. This is important for automotive OEMs because the adoption of more sophisticated graphics displays in the instrument cluster, and larger display sizes of seven inches and above in the CID, is increasing system memory requirements to capacities of 1Gbit and higher, the company continued. At these capacities, serial NAND flash has a markedly lower unit cost than that of SPI NOR flash, and occupies a smaller board area per megabit of storage capacity.
The W25N01JW also meets strict automotive requirements for quality and reliability, Winbond noted. Built with single-level sell (SLC) memory technology, and implementing 1-bit error correction code (ECC) on all read and write operations, it complies with the endurance, retention and quality requirements of the AEC-Q100 standard and relevant JEDEC specs.
The W25N01JW is available for sampling today in a capacity of 1Gbit. A two-chip implementation in dual-quad I/O mode provides 2Gbits of memory capacity and a maximum data transfer rate of 166MB/s. The chip is available in industrial grade and in an extended-temperature automotive grade version operating at up to 105-degrees C.