Taiwan could play a key "technological gatekeeper" role to help global high-tech companies fine-tune their technologies to enable the delivery of a variety of localized and customized services in various countries in South Asia and Southeast Asia, according to Colley Hwang, president of Digitimes.
The cooperation among the information and telecommunication supply chains in Taiwan and other countries will become much closer as they respond to growing technology development and demand for smart applications, Hwang said at the 5G/Innovation Summit jointly held by the Taipei City Government and Digitimes on November 25.
Envisioning that Taiwan's medical care and manufacturing industries, among others, are to undergo digital transformation, Taipei City and Digitimes will join forces to promote innovation and cross-industry, cross-nation cooperation, Hwang said.
In Korea, the number of 5G service subscribers will reach 4.8 million by the end 2019, far ahead of Taiwan. But Hwang believes that Taiwan still has opportunities to overtake competitors in various vertical application areas.
For example, Taiwan has a niche for the development of smart medical care systems, leveraging its comprehensive medical ecosystem that contains over 14,000 clinics, 9,000 pharmacies and dozens of teaching hospitals, coupled with its well-established IT industry.
In addition to the development unique and innovative cross-domain technologies under the 5G environment, traditional telecommunications sectors, such as servers, still have considerable opportunities for further advancements, Hwang commented.
There are abundant opportunities for Taiwan, given that over 94% of server products currently in use worldwide are manufactured by Taiwan's makers, Hwang indicated.
Taiwan also boasts a total of 11 technology companies each having a market value of over US$10 billion, giving Taiwan an opportunity for industrial upgrade and market expansion.
Leveraging these strong foundations, Taiwan's industries, government organizations and academics will be able to join forces to promote the triangular cooperation between Taiwanese startups, large-scale IT companies, and multinational startups, Hwang concluded.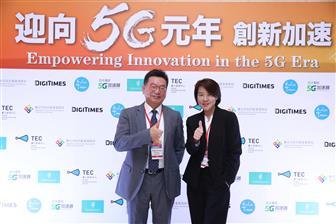 Digitimes president Colley Hwang (left) and Deputy Taipei Mayor Huang Shan-shan at 5G/Innovation Summit
Photo: Digitimes staff, November 2019