India is eager to duplicate the China experience and it knows well the role Taiwan makers have been playing behind the success of its neighbor. Despite its economic challenges, India prides itself in the fact it is a democratic country and believes its market has taken off. It thinks Taiwan businesses are reluctant to foray into the India market due mainly to their shortsightedness. But for Taiwan firms, they would enter the India market mostly at the request of OEM customers, as their priority is given to clients from China and other countries, over a lower-tier India market where product structures are complicated and customers are too price-sensitive.
Until they are sure how their profits can be generated, Taiwan businesses will remain cautious about venturing into the India market. There has been no consensus about how much more weight should be given to the India market, despite the fact that the Taiwan government has identified it as a top target of its New Southbound Policy devised to boost trade partnerships with ASEAN and South Asia.
Homegrown industrial chains
IDC statistics showed that the India market recorded total smartphone sales of 132 million units in 2017, still lagging behind sales of feature phones. Despite the belief that smartphones will soon completely replace feature phones, the India handset market remains too "opaque" to support such a belief: There are 250 million households divided by large wealth gaps, and vendors deliberately segment their markets believing that as long as they can identify the best market segments for their businesses they can have solid presence in the India market.
As far as the handset industry is concerned, India vendors who are keen to operate more efficiently would rather go to China to find products that meet their own needs. This way, it will take only 2-3 weeks for them to ready shipments for distribution at retail markets, compared to at least nine months starting from designing their own products from sractch to delivering them to the retailers - which would be a heavy burden in terms of investment and time-to-market.
India's homegrown handset brands have been criticized for operating like trading companies that seldom involve the local supply chain. According to Lin Zai-li, former president of WPG Holdings' South Asia operations, India has enjoyed playing the role of traders during its years of colonial rule by European countries, and therefore know little about supply chains. This, coupled with individual groups' vested interests and incentives provided by China OEMs, has made the India market a complicated one.
The India market has seen many smartphone brands from China. Citing Bird-branded feature phones as an example, WPG's India operations president Rajeev Bajpai has noted that the phones were manufactured and made available in China 7-8 years ago, but they are now dumped in the India market. He added that such low-end, fully-depreciated feature phones without involving any local R&D are flooding the India market like a "cancer" that undermines the real value of the local market.
In India's traditional consumer electronics industry, big players including Videocon are still plagued by funding and design capability issues, and their manufacturing capabilities are lagging far behind international standards. Among local handset makers in India, Lava International has been widely recognized as an aggressive player. Its chairman Hari Om Rai says Lava now maintains a 700-member R&D center in China, designing handsets in accordance with domestic needs for production by its China partners.
Jonathan Lalremruata, who founded Wipro Taiwan in earlier years and now provides consultancy services to Taiwan's Lite-On and Foxconn (Hon Hai), notes that India still lacks the fundamental PCB industry, and that his company once tried to cooperate with India's Ministry of Electronics and Information Technology to introduce PCB makers from Taiwan, but in vain. This is because most Taiwan PCB makers have completed deployments in China, and therefore there is not enough incentive for them to set up PCB plants in India, given that their existing production capacities have yet to be fully occupied and that the India market is not yet ready.
Rising stars
Nevertheless, the lackluster electronics industry in India is not without its own progress. Lava chairman Hari Om Rai believes that the India handset industry will return to a normal track of development, indicating that his company posted encouraging revenue performance in the past quarter and that time will stand on the side of an India that boasts a large young population.
Lava International
Also chairing a committee of India's Information and Communications Technology Industry Association, Rai said that family is his top concern, followed by the nation and then the company. While enterprises in Silicon Valley and China have taken off along with the emergence of their countries as world economic powers, India must identify its own public value before it can trigger its overall growth momentum, Rai stressed.
As a leading local handset maker with annual revenues of US$1.2 billion in 2017, Lava set the highest monthly sales record of 2.5 million handsets in the year, with one third of them being smartphones. The company has started small-volume shipments to neighboring countries such as Sri Lanka and Nepal.
In terms of long-term competitiveness for enterprises, Lava indicates that visible products and technologies are quite important, but the ecosystems and corporate cultures developed by enterprises are even more crucial in sustaining their competitiveness. Now maintaining total direct and indirect workforce of up to 30,000 people, Lava places market development and management as its top task, stressing that R&D and product designs count more than product manufacturing in fulfilling the task.
In China, Lava now has 700 designers of its own, 13,000 contracted employees serving at sales points, and another 4,000 handling production and sales coordination. For Lava, it is equally important to understand the terminal markets and control the pace of product development and launch. The company believes that in the Internet era, there is little difference in the market information that businesses obtain, and therefore whoever is willing to engage in long-term deployments can become the final winner.
Rai thinks that the China brands whose products will dominate the global markets will be those with long-term efforts to develop and serve the markets, such as Huawei and Lenovo, but not ones such as Xiaomi that rely heavily on pricing strategies. India can surely use high tariffs to check imports of foreign brands, but the corporate cultures of its local brands are what really matter in countering competitions.
MoMagic Technologies
MoMagic Technologies, a mobile software, app and content developer, now has 180 Indian employees and 150 Bengali ones. Its founder and CEO Arun Gupta earned his bachelor's degree in electronics and telecommunications from a public engineering institute in Indore, India in 1991 before joining HCL as a software engineer and then serving as a senior software engineer at India's DCM Data System from 1994-1996, when he was dispatched to station at DCM's US partner IBM. Later, he served as director of MediaTek India from 2002-2011, handling R&D, marketing and management operations before founding the startup company with financial support from MediaTek and Foxconn, which hold 23.5% and 10% stakes, respectively.
Arun believes that software services given to highly differentiated customers involve higher gross margins, but such services also entail the difficulties in building business models. In contrast, hardware products offer low gross margins, but their business models are easy to maintain over the long term. Achieving the coexistence of both software and hardware, and making supply chains more efficient, better customized and more valuable are the only formula for successful business management.
MoMagic now mainly offers mobile app services and operates a joint venture with Lava to provide app management services to 5,000 distributors under Lava. In India, there are now over 100,000 smartphone distributors. And MoMagic basically relies on service fee incomes to finance its R&D programs.
Lava and Spice are MoMagic's major customers in India. The firm has set up partnerships with Symphony in Bangladesh, while also extending its business reach to Sri Lanka. In addition, it also cooperates with a China mobile power supply company to expand their market influences through intensive exchanges, with both sides sharing offices in India.
MoMagic raked in annual consolidated revenues of over US$16 million in fiscal 2017, and its subsidiary serving e-commerce operators in Bangladesh also posted whole-year revenues of over US$3 million. Arun has decided to use the revenues and earnings to support his firm's R&D and personnel expansion while maintaining very close cooperative ties with MediaTek and Foxconn.
Commenting on the declining market shares by India's local handset brands, Arun opined that India's lack of independent design houses is a big problem, but the biggest problem is that the handset makers have little knowledge about how to work out their own product roadmaps. Basically, it will take only 2-3 weeks for vendors to source handsets directly from China for sales in India, but if they want to adjust the product strategies based on market needs, it will take them at least nine months to complete, according to Arun.
Many India handset vendors prefer shortcuts, but China upstream suppliers usually rule out India vendors as their top-choice customers due to product planning and cost concerns. Accordingly, India handset makers, in a disadvantageous position in terms of supply chain priority, will be driven out of the market in the long run. In fact, many vendors have hit a snag, including consumer electronics brands Intex and Videocon, which started out selling PCs and video products. Despite working hard to develop sales channels, they are plagued by poor product roadmap planning capabilities.
Among major India handset brands, Arun said, only Micromax and Lava are willing to invest in backend R&D projects. In particular, Lava boasts a strong R&D team in China, responsible for designing products needed by the India market. Backed by their abundant experiences in managing channels, both Micromax and Lava can coordinate well with China suppliers to roll out handsets dedicated to the India market. Nevertheless, while major China brands enjoy robust financial strength and product portfolios, India handset brands are really hard up. Now in India, Oppo and Vivo ads can be easily seen on TV channels, and promotion ads by more China brands can also be seen on roadsides. India handset makers really need more financial resources to support their competition against China vendors. But what makes situations tougher for India makers is that the credit-crunch India banking system has become conservative in extending loans since the government scrapped the largest currency notes - INR500 and INR1,000 - in November 2016 in a fight against unaccounted wealth and corruption.
Arun harbors the hope of leading his company toward South Asia and the Association of Southeast Asian Nations (ASEAN), and in this regard, joining forces with Taiwan is his best choice. Arun will set up a new company in Taiwan, with all the related documents already up for regulatory approvals. MoMagic hopes to boost the number of its employees in Taiwan from the initial 15 to over 40 in the starting two years, and it also plans to raise funds through listing shares on the India stock market in 2-3 years. The sluggish performance of the India property market has discouraged investors from funneling large amounts of funds into realty transactions, making stock exchanges the best outlets for their investment funds. In 2017, aggregate India stock exchange turnovers posted a sharp annual growth of 28%. Accordingly, it remains the best choice for India startups to create favorable leverage conditions with public capital funds.
MobiQuest Mobile Technologies
Founded in 2008, MobiQuest Mobile Technologies is dedicated to helping business brands manage social networks to expand connections with consumers, and its founding partners and its predecessor's managers all used to provide professional marketing services in India for many of the world's top 500 enterprises. In designing apps, dedicated web pages and social networks for customers, MobiQuest can utilize big data analysis to help customers better maintain their key clients and adjust their marketing paces to maximize the values of their marketing operations.
Over the past 10 years, MobiQuest has extended services to over 200 business brands, allowing them to build connections with over 65 million consumers through its awarded digital and mobile marketing platform M'loyal and recording transactions with over 500,000 consumers per day. With the increasingly bright prospects for big data and FinTech, MobiQuest is emerging as a "star of tomorrow" in India.
The company now has 70 employees with its revenues for 2017 reaching INR180 million (US$2.67 million), but its daily transactions involving half a million users have prompted Alibaba and Softbank to become investment partners during its next round of financing. It has never sent any of its staff to Taiwan before, but MobiQuest will visit Computex Taipei 2018 to be held June 5-9 to explore the possibility of cooperating with Taiwan's ICT hardware makers.
MediatTek India
With a total workforce of 15,000 people in its global operations and ranking top in many domains, Taiwan-based IC design house MediaTek now hires 600 employees in India, including 250 in Dehli, 330 in Bangalore and 10 in Mumbai, a new foothold.
MediaTek's footholds in India mainly function as R&D and technical support bases. MediaTek India president Anku Jain notes that MediaTek is a high-tech company earmarking 20% of its annual revenues as R&D expenses, with confirmed investment projects for the next five years estimated at US$6.5 billion, including US$350 million in India. He stresses that how MediaTek India will find and keep foremost talent is very crucial to the entire MediaTek Group.
Generally speaking, tech giants such as Microsoft and Intel usually hire India's top-class fresh university graduates with an annual pay of INR1.5 million (US$23,114.85), and then groom them according to their specific corporate cultures. MediaTek India can hardly source all its employees from the top-ranked Indian Institute of Science (IISc), but it can manage to hire graduates from other national science and engineering colleges with annual pay of INR1-1.2 million, compared to only INR 700,000 payable by local handset makers to fresh employees.
In developing India's domestic handset market, most India vendors adopt an international trade-based business model, procuring handsets directly from China for sales in India. Such a model can bring short-term benefits, but lacks long-term value. Anku believes that local handset vendors in India will certainly face the pressure of consolidation, and whoever owns more cash will dictate the outcome.
Now, China's smartphone brands Vivo and Oppo have their advertising signs easily seen on the streets in India, while Xiaomi focuses on promoting sales through online channels. They have adopted the same business models to develop the India market following the saturation of the China smartphone market, imposing great pressure on India's local handset brands and Samsung in terms of market shares in the South Asian country.
(Note: This is the second installment of an article about India's IT market and industry, written by Colley Hwang, president of Digitimes.)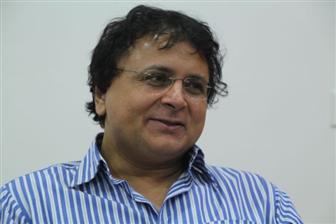 Lava chairman Hari Om Rai
Photo: Colley Hwang, Digitimes, February 2018
Rankings of India science and engineering universities and colleges

Rankings

Titles

Times Higher Education World University Rankings

1

Indian Institute of Science(IISc)

29

2

IIT-Bombay

44

3

IIT-Kharagpur

60

4

IIT-Roorkee

65

5

IIT-Kanpur

81

6

IIT-Delhi

86

7

Tezpur University

100

8

IIT-Madaras

103

9

IIT-Guwahati

112

10

Punjab University

114
Source: Taipei Economic and Cultural Center in India, compiled by Digitimes