STAr Technologies, a leading supplier of semiconductor test systems and probe cards, announces the immediate availability of the Aries-Optima MEMS probe card, the world's first fine-pitch high-current MEMS vertical probe card for high-volume manufacturing. The Aries Optima is the latest pinnacle of MEMS probe card technology, setting new standards, addressing emerging needs in wafer-level testing, and securing STAr as the one of the leaders in MEMS probe card technology.
STAr Technologies has been instrumental in developing and deploying high-value vertical probe technologies for more than a decade and has developed a system and methodology to quickly adapt to emerging market needs. STAr's ongoing commitment to the semiconductor test community is reflected in a 20-year history of regular product introductions that address all aspects of the evolving market needs including enhanced test efficiency, reducing cost of test, optimized test accuracy, and delivery the best value to the market.
In addition to meeting evolving requirements of high-current with probe pitch down to 45um, the Aries Optima series MEMS probe cards, provides greater value with attributes that maximize return on investment and reduces cost of ownership. STAr has mass produced MEMS probes with carrying capacity of 550mA for standard applications. For automotive and high-power applications, we are able to achieve up to 700mA with test temperatures up to 150 degrees C.
According to a recent VLSI Research report, the demand of ICs continues unprecedented grow due to the economic recovery, 5G and IT infrastructure buildout, among others. These market drivers result in more emphasis on production efficiency and reductions in test time and cost of test, and as a result, MEMS technology probe cards occupy an increasing large market share. The Aries Optima Series MEMS probe card technology ideal for RF, AP, and high-power while providing stable DC performance with better leakage performance than traditional Cobra type probe cards.
"The Aries Optima is the world's first fine-pitch MEMS vertical probe card, supporting high-current test and reducing testing frequency, time and labor cost for customers and will the best choice for next generation of semiconductor test," said Dr. Choon-Leong Lou, CEO of STAr Technologies, Inc.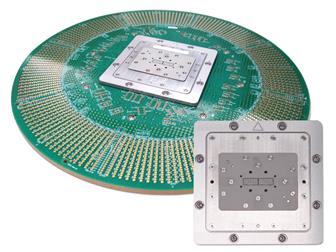 Aries Optima the world's first fine-pitch high-current MEMS vertical probe card for high-volume manufacturing