The US and China have been clearly in a standoff, sparring over tariffs and technologies. This has resulted in supply chain reshuffle for some industries. US president Joe Biden signed an executive order on February 24, 2021 mandating a review of critical product supply chains in the US with the aim of bringing manufacturing back the US and rebuilding localized supply chains. Taiwan-based manufacturers caught between the two giants may not afford to choose sides, but they can still find room for survival.
Since 2017, the US Department of Commerce has implemented export control on more than 500 Chinese enterprises and rejected 34 Chinese acquisitions of US companies. The US Department of Justice has charged 63 individuals for espionage and participation in China's Operation Fox Hunt. The US Department of Defense has named 35 high-tech firms as entities owned by, controlled by, or affiliated with China's government, military, or defense industry. The US Department of the Treasury requires that US citizens must divest their holdings of Chinese military-affiliated companies by November 11, 2021. It also has sanctioned 231 Chinese individuals and entities, including 36 Chinese and Hong Kong officials.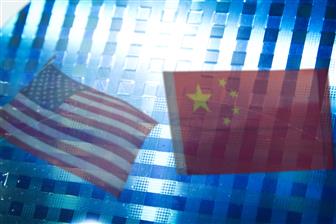 US and China are engaged in a tech war
Photo: Digitimes file photo
Post-Tiananmen era and tech war era
What are implications of the US government's actions against China? Western countries slapped economic sanctions against China after the 1989 Tiananmen crackdown on democracy, hitting hard China's economy and society at that time. China had to undertake a series of reform measures to weather the crisis. China's economic growth registered at 2.3% in 2020, the lowest since the start of China's reform and opening up in 1977. It may seem that China sustained impact from the trade conflict, tech war and COVID-19. However, many research institutions expect China's economic growth to rebound to the range between 7.0% and 9.0% in 2021. This indicates that China's economy made up of immense manufacturing, finance, digital economy, real estate and service sectors still has the potential to maintain high growth, which is quite different from the weakness it experienced in 1989.
China's GDP amounted to CNY101.5 trillion (US$15.89 trillion) in 2020. Despite falling short of the US GDP at US$21.4 trillion, China's efforts toward and investments into economic development and technological advances are not to be overlooked. China may still be on course to continuing high GDP growth. More data indicate that China will not easily be defeated by Western containment with its enormous scale. China's total imports and exports came to US$4.6463 trillion in 2020. Its foreign exchange reserves totaled US$3.2165 trillion. China has 62.64 million ounces of gold on reserve and owns US$1.054 trillion of US government bonds. According to Yifu Lin, dean of Institute of New Structural Economics, Peking University, China's economy is likely to surpass that of the US in a decade. It will get to a GDP per capita half that of the US and an economic scale twice that of the US in three decades. The US will then no longer have a technology stranglehold over China.
The US cutting high-tech supply to China has indeed exerted impact to Chinese firms including Huawei and SMIC in the short term. However, China has a massive domestic market and a huge number of foreign firms running production bases in the country. More importantly, it has a strong determination to drive independent innovations. It is therefore addressing challenges from the outside world with "internal circulation" and "independent technology innovation" initiatives and actively undertaking regional development plans and Pilot Free Trade Zone projects including Hainan Free Trade Port, Guangdong-Hong Kong-Macao Greater Bay Area and Integrated Regional Development of Yangtze River Delta.
On top of that, China is also promoting the development of key industrial parks in State-Level New Areas and Industrial Demonstration Zones in the central, western and northeastern provinces with an aim to enhance the country's ability to absorb the impact from manufacturers moving production out of China. It is unlikely a smart move for overseas-funded and Taiwan-based enterprises to completely pull out of China. For example, the firms that have relocated some of their production bases to India in view of the US-China trade conflict are seeing impacts from the recent surge in COVID infections in India.
G2 battling for tech supremacy
The US is wary of China's rise mainly because China has discovered the secret behind the success of the US - building national strength by investing in fundamental scientific research. By doing the same, China will be able to not only make use of technologies but also develop technologies. Some Chinese enterprises, both private and state-funded, may have indeed gained access to technologies through improper means, infringing on Western companies' intellectual property (IP) rights. If the US, Europe and Japan are to completely stop China from copying their products or infringing on their IP rights, China will have no choice but to expediate its independent technology development. Ancient China was once a world leader in science and technology, and modern China could become a world leader again.
China's Department of the Treasury, State Taxation Administration, National Development and Reform Commission and Ministry of Industry and Information Technology jointly announced preferential tax policies for integrated chip makers and software enterprises at year-end 2020. IC makers producing semiconductors of 28nm and under are exempt from income tax for 10 years. Those producing 65nm and under semiconductors are exempt from income tax for five years and enjoy a preferential 25% tax rate for the following five years. The National Development and Reform Commission and Ministry of Commerce released Catalogue of Encouraged Industries for Foreign Investment, which contains a total of 1,235 items, with a focus on driving foreign investments into key technologies related to advanced manufacturing and modern service industries such as artificial intelligence (AI), 5G, IC and blockchain.
China R&D expenses

Total expenses

CNY2442.6 b

As a proportion of GDP

2.4%

R&D type

Basic research

5.5%

Applications

11.%

Tech

83.3%

Executors

Enterprises

77.4%

Government

13.7%

Academic

7.4%
Note: GDP figure from 2020; breakdown numbers as of 2018
Source: National Bureau of Statistics of China, Compiled by Digitimes, May 2021
US R$D expenses

Total expenses

US$656 b

As a proportion of GDP

2.94%

R&D type

Basic research

16.6%

Applications

19.2%

Tech

64.1%


Executors

Enterprises

70.3%

Government

22.1%

Academic

3.4%

Non-profit organization

4.1%
Note: Total R&D expenses for 2019; breakdown numbers based on 2018 expenses
Source: NSF, compiled by Digitimes, May 2021
As a matter of fact, China's research and development spending climbed from CNY1.42 trillion in 2015 to CNY2.44 trillion in 2019 and its basic research funding nearly doubled. According to the Global Innovation Index (GII) released by the World Intellectual Property Organization (WIPO), China moved up from No. 29 in 2015 to No. 14 in 2020 mainly as a result of its leaping advances in basic research and applied research. Not only has China made progress in quantum information science, FeSe, stem cells and synthetic biology, but it is also endeavoring toward AI chips, operating systems, new energy vehicles and next-generation display technology.
China's growing scientific research strength has given rise to more than 200,000 small and medium tech businesses as well as high-tech corporations in the country. There are 173 high-tech companies listed on the Shanghai Stock Exchange Science and Technology Innovation Board. The startup scene in China is also thriving with burgeoning makerspaces, tech business incubators, accelerators and university science parks. They don't feel the squeeze the US is putting on China. China's national science and technology programs and key laboratories are backed by its immense research funding. They are actively recruiting tech talent from abroad by rolling out new work permit and visa application systems for foreigners and conferring the ownerships or rights of long-term use of job-related scientific and technological achievements on scientific researchers.
The world's factory vs the world's police
China's top priority is to build up a strong foundation for high-tech innovations. This is the only way to counter the tech blockade by the West. It is also the motive behind China's 10-year action plan for basic research starting 2021. The aim is to enhance innovation and planning capabilities and inspire creativity. China will not lag behind Taiwan in basic scientific research. In fact, it stands a chance of overtaking the US in certain areas.
Taiwan-based vendors rely heavily on China to do the processing and manufacturing for their products which are then sold across the globe. Taiwan-based vendors supplying electronics components, computers, electronics and optical devices mostly set up operation bases in central, south, southwest and east China. Smartphones produced by Taiwan-based vendors on OEM basis in China and exported to the US are virtually all iPhones. Unless they are required by their customers or they have no other choice, Taiwan-based vendors are unlikely to cease their China production and business in haste.
On top of that, products assembled in China including smartphones, notebook computers and tablets need upstream and midstream components supplied from Taiwan. Increasing demand from China's assembly business actually spurs Taiwan's exports of electronics components, ICT products and production machinery. Will production shift out of China to avoid tariffs shake China's status as the world's factory? If the anwer is yes, what are the impacts to China? China has established advantages in supply chains and it will not be easily replaced by other countries including ASEAN member states, India and Mexico. Even the maturing electronics supply chain in ASEAN countries can only satisfy part of the world's demand and can hardly take over China. Vendors that leave China will lose their grasp on China's upstream and downstream supply chain and China's consumer market dynamics. They will miss out on the opportunity should China's economy really surpass that of the US 10 years from now.
As the word's police, the US does not want to see a strong China dictating world order, especially in technology and industry where it is leader. It is under the pressure of being overtaken by China. That is why the Biden administration proposed the US$2.3 trillion American Job Plan to revitalize semiconductor, electric vehicle (EV), new energy and broadband industries and cutting-edge technology development.
China has not seen large-scale supply chain relocation out of the country since the COVID-19 outbreak. Academic researchers think this is due to difficulties in shifting capital, infrastructure and labor, in addition to new supply chain adjustments and regulation compliance issues to be addressed when moving operation to another region. To manufacturers, relocation introduces new uncertainties, not to mention cost increases.
Taiwan, as OEM for multinational brands and upstream component and intermediate goods supplier to assemblers in China, must increase its research and development spending while making efforts to incubate and retain professionals. By doing so, Taiwan's hardware component manufacturing process will keep advancing and the Taiwan industry can thereby survive and thrive.