As the modern smart connected devices are getting smaller, thinner, and supporting more stringent protocols such as 5G, GPS, UWB, BLE, and Wi-Fi 6, they need high-performance timing solutions that are accurate, scalable and able to fully integrate with electronics chips; however, it's something that traditional quartz timing is practically unable to do.
With an aim to transform the almost 100-year-old quartz-based timing market, Canada-based Stathera, Inc. has developed innovative MEMS-based solutions to address these unmet requirements for wearable, IoT, smartphone and other connected devices.
George Xereas, Co-founder & CEO of Stathera, explained that the number of smart, connected devices are expected to surpass 74 billion by 2025, and as with every electronic device, they need at least one MHz frequency reference to support telecommunications (e.g. Bluetooth, Wi-Fi) and one kHz frequency reference to serves as a the Real-Time-Clock (RTC) or support stand-by modes.
But quartz-based oscillators provide only a single MHz or kHz output, requiring at least 2 oscillators per system, which consumes significant PCB area and increase BOM cost.
Also, quartz oscillators are not CMOS compatible, and cannot scale or be integrated on-chip. In addition, their accuracy and performance are severely affected by environmental factors including temperature, humidity, vibration and shock. This results in premature failure, shorter battery life, and higher system cost.
In order to solve these problems, "our world's first, true-dual-output MEMS timing solution provides both the MHz and kHz output from a single resonator", stressed Xereas. "This enables the replacement of two legacy oscillators allowing for the simplification of system design, reduction of power consumption, reduction in printed-circuit-board (PCB) area, reduction in bill-of-materials (BOM) and reduction in system cost."
In a wearable application against typical quartz-timing for example, Stathera's oscillator solution can provide 40x more resistance to shock and vibration, 90% reduction in PCB board-space, and 80% reduction in the associated BOM count.
"When you couple this with the reduction in cost, lower current consumption, and longer battery life, you will find that Stathera's product offering brings significant benefits to both the customer and their system", Xereas said.
At present, Stathera is in the process of commercializing its MEMS-based timing products, and the 1st generation of devices are under development. Meanwhile, the company has completed the R&D phase and validated the MEMS performance with multiple R&D builds, and the companion ASIC is currently being developed.
Speaking of Taiwan, Xereas pointed out that Taiwan is a vital hub for hardware electronic devices. "We aim to develop partnerships and secure design-in opportunities with local customers (OEMs and ODMs), that are interested in adopting our dual-output MHz and kHz MEMS oscillators into their system designs."
The company is also interested in collaborating with local IC and reference design manufacturers on next-generation timing specification for their chips to ensure next generation OEM & market requirements are met, and towards SoC integration of Stathera's embedded MEMS resonator. In addition, channel partners and strategic investment partners are also the possibilities that they are looking for.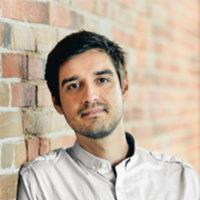 George Xereas, Co-founder & CEO of Stathera
Photo: Company
DIGITIMES' editorial team was not involved in the creation or production of this content. Companies looking to contribute commercial news or press releases are welcome to contact us.