5G is the hottest topic in the technology industry today and the most interesting trend is the move towards an open, disaggregated white-box solutions, which is expected to bring great business opportunities. While everyone is gearing up for the 5G wave of monetary profits, one Taiwanese company is already ahead of the curve and has started by providing a 5G Cell Site Gateway Router (CSGR) solution to AT&T and other carriers last year (2019). That company is UfiSpace.
Founded in 2012, UfiSpace entered the white box market in 2017, providing cost-effective, flexible disaggregated solutions with corresponding solutions from carrier base stations to core networks, which will help carriers meet all requirements for future 5G network deployments and operations.
UfiSpace also developed the world's first 400G Distributed Disaggregated Chassis (DDC), which completely overturns the traditional design, and allows telecom operators to incrementally scale up their network capacity from 4Tb to 192Tb at any time according to their business needs. This has impressed many telecom companies and cloud service providers who have enthusiastically began engaging with UfiSpace on proof of concept (POC) projects.
In order to increase the efficiency of equipment development, UfiSpace decided to build a 5G performance verification lab last year, which will double as a showroom to provide better customer experience with a more "hands-on" approach. However, with UfiSpace's core competence in research and development, they will constantly add new solutions and their showroom will need to be able to expand dynamically with the possibility of relocating in the future, which made it difficult to build a lab using traditional methods. Thus, UfiSpace decided to implement a pre-assembled micro data center with careful consideration, UfiSpace selected Vertiv's SmartRow data center solution. Vertiv is a global provider of power, cooling and IT infrastructure solutions covering the cloud to the edge of the network and has built on the Emerson Group's past successes and years of experience in the data center industry. With a focus on data center design and services, Vertiv is able to provide complete data centers from a single rack to the design, commissioning and implementation of complete and deployed data centers, and has served several telecom companies around the world. Therefore, UfiSpace was confident Vertiv can meet their requirements.
Vertiv's integrated modules are designed to expand and relocate according to business needs
"The telecom industry is a capital-intensive industry, with an emphasis on cost control. However, traditional telecom equipment is a closed system, in which hardware and software are proprietary, resulting in higher costs and limited application scenarios," said Nicole Chen, Marketing Director at UfiSpace. According to Nicole, UfiSpace's disaggregated and open architecture solutions can help telecom operators to achieve economies of scale and reduce future equipment management costs by using the same set of hardware coupled with different software to meet different service applications.
To take advantage of the new blue ocean of 5G white box market, UfiSpace planned to establish a showroom and laboratory environment to help with business promotion and speed up product development. The traditional way of building these new environments is not enough to meet the changing needs of a growing organization, and it is difficult to incorporate future plans into the design, additionally UfiSpace needed a solution with the criteria of space saving, energy saving and cost control.
Vertiv SmartRow was selected amongst the many data center and telecom infrastructure providers. It perfectly meets UfiSpace's requirements which include space saving, energy saving and cost reduction. SmartRow is a closed-circuit module, including cabinets, air conditioners, UPS, power distribution, facility monitoring and management and other subsystems, all of which can be pre-designed, integrated and tested in Vertiv's factories, which significantly reduces deployment time and footprint. Through high-efficiency power and professional cooling technology management controls, cooling capacity can be provided according to the actual load demand to achieve accurate cooling production, thus increasing cooling efficiency and reducing annual energy consumption by more than 30%. It also improves the predictability of construction schedule and cost performance, and allows for phased renovation and expansion, and is easily relocatable to meet UfiSpace's expectations and needs for showroom and laboratory environments.
According to Nicole, with the traditional construction method, after installing the cabinets, additional wiring and other complicated configures are required to integrate power and air conditioning facilities, which often leads to high costs and prolonged installation. On the other hand, the value of SmartRow's all-in-one solution is that everything is integrated at the factory for faster deployment and reduced installation time.
UfiSpace's DDC runs at a high data rate of 100G to 400G, with a single DDC router capacity of 4.8Tbs. A chassis cluster can interconnect up to 48 routers for a total of 192Tb switching capacity. All those routers running at the same time can make presentations a bit difficult to hear. Fortunately, the SmartRow's airtight design isolates all sounds inside the cabinet, so UfiSpace's solution presentations will not disturbed, which is highly appreciated by the sales staff. According to Nicole, SmartRow's quiet, energy-saving, space-saving, aesthetically pleasing (its exterior resembles more of a luxury product), and easy relocation features will be of great help to the realization of UfiSpace's showroom promotions.
Energy efficient, low noise, space saving, suiting requirements for showroom and lab builds
Overall, Vertiv SmartRow is a great solution for power distribution, heat management, environmental safety, management interfaces, appearance, cable management and installation delivery; all of which provide a new, tighter, more secure, more reliable, more convenient and more aesthetically pleasing server room deployment experience for users. This is due to it not only inheriting the advantages of integrated design, rapid deployment and on-demand expansion, but also considers energy saving, monitoring and management needs, and even effectively solves the problem of lack of space in the server room of ordinary customers. Therefore, UfiSpace sees SmartRow as not just a product, but the delivery of the complete lifecycle of the server room.
From the UfiSpace IT management team's point of view, the most notable feature of Smart Row is the enclosed design with strict cooling control and monitoring, which is different from the traditional server room solutions that rely separate systems. In addition, Smart Row is dust-proof, significantly reduces IT equipment failure rates, and reduces system noise, perfectly separating the human-machine environment in the server room. Vertiv is an experienced infrastructure solution provider with expertise in helping customers reduce their energy costs, with energy optimization strategies at every level, whether it's for hosting 5G equipment, infrastructure or network management, or to help UfiSpace with the optimization of TCO.
Steven Hou, General Manager of Vertiv Taiwan indicated that his ultimate objective is to build a top-rated, reliable and energy-efficient modular intelligent data center for his customers. More importantly, Vertiv's products support high mobility and flexibility to adapt to different environments and scenarios, a key attribute for UfiSpace, which is constantly and rapidly experimenting with new technology developments to make its mark in the 5G telecom market.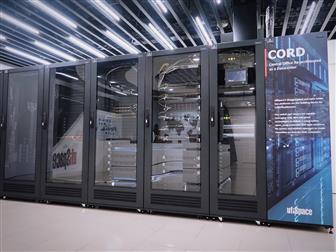 UfiSpace implements Vertiv's SmartRow data center solution to create 5G lab and showroom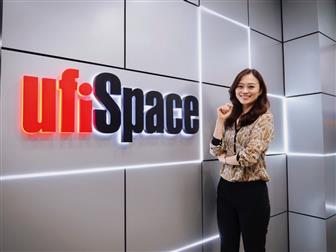 Nicole Chen, Marketing Director at UfiSpace
DIGITIMES' editorial team was not involved in the creation or production of this content. Companies looking to contribute commercial news or press releases are welcome to contact us.