Brogent Technologies has created a 5G cloud computing-based dynamic simulation VR gaming system and set up such a gaming facility at Kaohsiung Software Technology Park in southern Taiwan.
Brogent said the system was developed with help from a 5G edge computing R&D team under government-sponsored Industrial Technology Research Institute (ITRI).
The system is a light-weight 3D dynamic simulation platform equipped with high-performance computing capability to enable VR online game players to experience real-time 3D dynamic simulation by virtue of 5G high transfer speeds and low latency, in a bid to bring value-added amusement and deeper immersive feeling in gaming, Brogent said.
Brogent said it has a global market share of over 85% for flying theaters at present. The company has set up nearly 40 iRide flying theaters in theme parks and sight-seeing venues around the world and is setting up another 40 with a target cumulative number of 100 for 2023.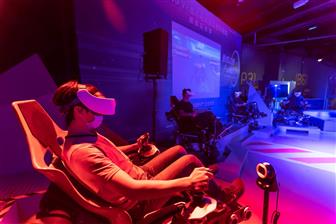 A Brogent-developed 5G cloud-based dynamic simulation VR gaming facility
Photo: Company