Global shipping lines have been plagued by substantial empty container repositioning costs, but now such costs can be drastically reduced through a container sharing platform set up by Taiwan-based startup Neptune Container Swap (NCS), according to company executives.
NCS chief technology officer John Chin said the company offers a container sharing platform dedicated to swaps of leased standard containers among shipping lines, which can not only help marine carriers eliminate unnecessary empty container journeys and costs, but also boost container turnover rates.
Chin continued that different shipping lines usually see empty containers stay idle or in short supply at different harbors, and NCS can serve as a neutral third-party matchmaking platform to instantly maximize swaps of empty containers through its cloud computing and algorithms.
Company CEO Spencer Feng also noted that NCS helps shipping firms exchange usage rights for empty containers on a one-for-one swap basis directly at ports, allowing them to enjoy the benefits of container sharing without negative impacts on their operations as their total fleet sizes and lease terms remain unchanged and confidential and no follow-up work is needed.
Feng said that there are over 300 harbors around the world, and many of them are short of direct bilateral shipping lanes, providing great growth potential for swaps of empty containers directly at ports.
Feng disclosed that since its inception in 2016, NCS has built partnerships with many Asian shipping firms including Taiwan's YangMing Marine Transport, Wan Hai Lines, Interasia Lines, and TS Lines, Singapore's Pacific International Lines and South Korea's Hyundai Merchant Marine.
He stressed that his company will move to attract leading European shipping lines to join the NCS platform, such as Denmark-based APM-Maersk and Switzerland's Mediterranean Shipping Company. Both firms are now the world's top-2 shipping lines with a combined share of over 30% of global container shipping business.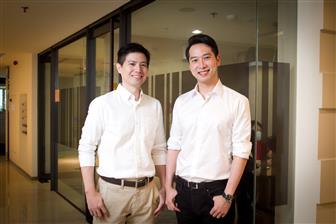 Neptune Container Swap CTO John Chin (left) and CEO Spencer Feng
Photo: Shihmin Fu, Digitimes, June 2020