CoolBitX aims to help VASPs comply with FATF Recommendation 16
Sammi Huang, Taipei; Adam Hwang, DIGITIMES
CoolBitX, a Taiwan-based startup engaged in developing blockchain security solutions, has developed Sygna Bridge, an API that helps virtual asset service providers (VASPs) meet their respective countries' regulatory requirements as mandated by FATF (Financial Action Task Force) Recommendation 16 to prevent money laundering and terrorism funding, according to company founder and CEO Michael Ou.
International money transfers among banks use SWIFT (Society for Worldwide Interbank Financial Telecommunication) codes for identification, and Sygna Bridge is intended as SWIFT for virtual currency exchanges, enabling VASPs to collect and exchange FATF Recommendation 16-compliant transaction information, Ou noted.
CoolBitX in April 2020 presented to FATF officials findings in Sygna Bridge tests, which showed that in cross-country transactions of virtual currency among Japan-based SBI VC, South Korea-based Bitsonic and Taiwan-based BitoPro, Sygna Bridge was an efficient solution, Ou said, adding it passed examination by four large international accounting firms. Currently, 15 virtual currency exchanges in Taiwan, Japan, South Korea and Canada have joined Sygna Bridge.
Among FATF Recommendations regarding prevention of money laundering and terrorism funding, Number 16 is the most difficult one for VASPs to comply with, Ou noted.
In addition to Sygna Bridge, ColBitX has developed CoolWallet S, a credit card-sized Bluetooth hardware wallet that supports various tokens including Bitcoin, Ethereum, Litecoin, XRP and ERC20, Ou said. While many of competitive hardware wallet models have to be connected with notebooks, CoolWallet S is connected with smartphones via Bluetooth for transferring users' private keys, Ou noted.
CoolBitX in February 2020 finished series B funding round raising US$16.75 million from Japan-based SBI Holdings and Monex, Taiwan's National Development Fund and Bitsonic. CoolBitX will use the funds to continue tapping the Asia market, aiming to increase the number of virtual currency exchanges joining Sygna Bridge to at least 30 in 2020.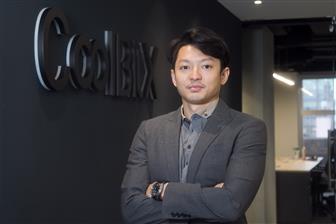 CoolBitX founder and CEO Michael Ou
Photo: Shihmin Fu, Digitimes, June 2020