The Ministry of Economic Affairs (MOEA) in 2018 began promoting installation of smart machine boxes (SMBs) on machines as the first step to boosting development of smart machinery in Taiwan, and beginning 2020 the SMBs will get upgraded functions and standardized format interfaces, according to government-sponsored Smart Machinery Promotion Office (SMPO).
Initial SMBs focus on production management, with primary functions being visualization of machines' operating conditions and utilization, output statistics and automatic notification of machines' operational failure, SMPO said. Along with accumulation of operating data, the role of SMBs will be extended from production management to optimization of production and manufacturing equipment, with advanced functions such as quality monitoring, diagnosis and prediction of operating conditions for equipment, optimal scheduling for production to be added, SMPO noted.
As specific functions on demand vary from industry to industry, modules of industry-specific functions will be overlaid on those of common functions for SMBs, SMPO indicated.
Initial development of SMBs involved 32 companies, research organizations and universities, and respective SMB software solutions are independent of one another and lack mutual compatibility, according to Intelligent Machinery Technology Center (IMTC) under government-sponsored Industrial Technology Research Institute (ITRI).
IMTC said SMB users are prone to relying too much on scenarios set by individual developers, and it will work to standardize format interfaces to enable different developers' SMB software solutions to smoothly operate in common environments.
Based on the standardization, a smart machinery cloud computing platform was unveiled in 2019 to facilitate development of cloud-based SMB software solutions and allow users of standardized SMBs to download chosen solutions on subscription or rental basis, SMPO said. Developers of machines can pre-install such solutions on their products and system integration service providers can adopt such solutions to enhance total solutions.
The platform will be tested for reliability and information security in first-half 2020 and come into trial operation in the second half, with commercial operation expected to begin in 2021.
So far, over 150 manufacturers have installed SMBs on 3,285 machines, SMPO indicated, adding that the target number of SMB-equipped machines for 2022 is 9,000.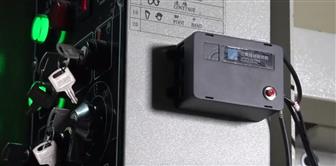 A smart machine box
Photo: ITRI