App for cyclists: Q&A with Velodash CEO Molly Huang
Judy Lin, Taipei; Adam Hwang, DIGITIMES
Taiwan-based startup Velodash has developed an app to allow cyclists to plan cycling routes and arrange group rides as well as to provide management system, including route planning and real-time tracking of cyclists,for cycling event organizers. It has recently raised NT$21 million (US$698,300) in an angel round of funding.
Company co-founder and CEO Molly Huang talked to Digitimes in an interview about Velodash's outlook and plans.
Q: The Singaporean government adopted Velodash's app for recording participants' performance in a cycling event at the Singapore National Games in late July-early August 2018. What's Velodash's progress since then? What is Velodash's next step?
A: At the event, Velodash noticed the need to precisely meet clients' demand, as event organizers have to be responsible for participants' safety. But the app at the time could only display the locations of all participants but did not provide management functions for assigned tasks. Velodash, inspired by the observations at the event, has developed Staff, an app functioning as a smart control center for tracking all participants and displaying locations of rescue resources such as ambulances, and the statuses of incidents that are being handled. Staff will be launched later in 2020.
By virtue of cycling events, the number of Velodash app users has increased from over 3,000 in August 2018 to more than 30,000 at present. Velodash has expanded the user base from B2C (individual users) initially to also include B2B (enterprises and event organizers).
The fund raised in the angel round will be used to expand workforce from eight staff members currently to 15. Velodash will tap overseas markets in Asia, with Japan to be the first one. In addition, Velodash plans to further raise funds in mid-2021 or 2022 for taping additional overseas markets such as the US.
Q: Are B2B clients mainly professional cycling events such as Tour de France?
A: Professional cycling events usually adopt customized apps due to confidentiality. Velodash focuses B2B clients on organizers of amateur events or bicycle vendors who organize their own cycling teams for sales promotion.
In fact, amateur cycling teams and people fond of cycling make up the largest demand. Members of amateur cycling teams, mostly aged above 35, usually go on cycling in group during weekends and they need mutual care.
Q: Will Japan-based Nippon Platform Group, one of the angel investors, help Velodash tap markets in Japan and other Asian countries? Is it in strategic cooperation with Velodash?
A: Nippon Platform Group has not asked for strategic alliance despite its angel investment, but will maintain cooperation with Velodash.
Q: What are the business opportunities in the Japan market? Are there competing products?
A: Japan is the largest market in Asia. In view of concentration of international tourists in main cities, the Japanese government has been making efforts to divert tourists from big cities to rural areas. However, public bus services in rural areas are very infrequent and thus bicycles become an ideal transportation tool. Local governments in Japan are also inclined to sponsor cycling activities or events in rural areas. Therefore, Velodash's sales promotion in Japan will begin in rural areas rather than in big cities. Besides, as there are various folk festivities, such as carrying of sedan chairs, on many traditional festivals in Japan, Velodash plans to provide a common platform for activity organizers to create content on demand.
Q: In addition to GPS, AI-based algorithm and IoT, what other technologies will Velodash adopt?
A: Besides collection of data on location, Velodash plans to use GPS to establish its own map system, tentatively dubbed VeloMap. Because Google Map contains much unnecessary information for cyclists, our map system will focus on information really needed by cyclists such as locations of coffee shops for taking rests, repair stores and restrooms, and allow users to edit and update information. Velodash will encourage store operators to join the map system.
Q: How can Velodash maintain users' stickiness?
A: Velodash encourages users to create unique content. For example, Velodash-developed route planner enables cyclists to recommend their favorite cycling routes for sharing.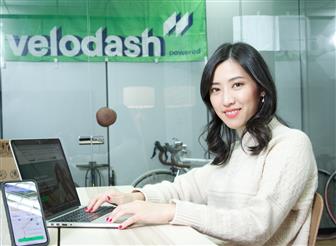 Velodash co-founder and CEO Molly Huang
Photo: Shihmin Fu, Digitimes, February 2020