Acer subsidiary Xplova has launched a cycling computer for live streaming users' activities and in addition to cycling, the device is expected to further expand to support other activities such as triathlons, according to Ben Wan, chairman of Xplova and president of Acer's e-Enabling business group (EBBG).
The Xplova X5 features a 120-degree wide-angle camera, supporting HD-quality filming. The device is able to activate recording mode based on the user's heart rate changes, allowing the device to auto film users' cycling activities.
Acer acquired Xplova in September 2015 and continued seeking new acquisition targets that have potential. Acer has also acquired or invested in players that focus on industries such as interactive pet monitoring and smart traffic applications and will start unveiling its latest innovations in the near future, Wan noted.
Acer is currently providing free apps for beginner-level users and will release more intermediate- and professional-level apps and services with membership charges.
Xplova currently has 30,000 members worldwide and the company expects the number to double with more new services.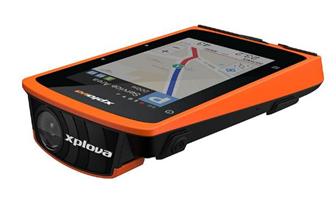 Xplova X5 cycling computer
Photo: Company