There are many business opportunities for medical clinics in Vietnam, for Vietnamese are increasingly willing to spend on medical care and therapy along with rising living standard, according to Johnny Chang, a Taiwanese member of the board of directors for Vietnam-based Dai-Y Clinic.
Chang set up Cirem Medical in Vietnam for importing medical devices and materials for the local market five years ago, and later set up dental clinics in Ho Chi Minn City, Dong Nai and Binh Duong Provinces.
Currently, medical resources are still insufficient to meet demand in Vietnam, with hospitals and clinics in cities frequently full of patients, Chang said. Operation of Dai-Y Clinic will extend from dental therapy to rehabilitation, orthopedics, anti-aging therapy and preventive medicine in 2020, Chang noted.
Cirem will provide services to help Taiwan-, China-, US- and Germany-based companies apply for import licenses for medical devices and materials, Chang indicated. If products have obtained certificates from the US Food and Drug Administration and Taiwan's counterpart as well as EU CE marking, they stand a good chance of being approved to be imported into Vietnam, Chang noted.
Dai-Y used to cooperate with Taiwan-based Kaohsiung Medical University and China Medical University to provide medical training services in Vietnam and arrange Vietnamese medial staff to receive training in Taiwan, Chang said.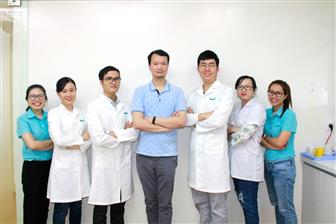 Johnny Chang (center), a member of the board of directors for Vietnam-based Dai-Y Clinic
Photo: Dai-Y Clinic