ITRI uses AI to train collaborative robots
Chloe Liao, Taipei; Adam Hwang, DIGITIMES
Computational Intelligence Technology Center under government-sponsored Industrial Technology Research Institute (ITRI) has developed an AI-based deep learning solution for use in training robotic arms to load and unload components onto and off production lines.
Training by the solution is through letting robotic arms learn to grab and release randomly placed components at varying angles and force in 12 hours. Along with adjustment in production lines for making different products, training of robotic arms can be quickly adjusted accordingly.
AI-based training can replace conventional training based on programming used to define each action, with the latter being complicated technologically and taking much time.
Besides, tactile sensing is applied to training of robotic arms. Mechavision, a startup business spun off from ITRI in 2017, has cooperated with Japan-based Mitsubishi Electric to develop Finger Teach, a solution to train robotic arms using finger touch.
According to ITRI's surveys, of collaborative robots adopted in Taiwan, 36% are used in manufacturing of electronics including ICs and PCBs, 32% in mechanical processing. Collaborative robots are used in match with AGVs (automated guided vehicles) in loading and unloading components for the former and, in addition to loading and unloading components, in grinding, paint spraying, glue coating and polishing processes and carrying semi-finished products for the latter.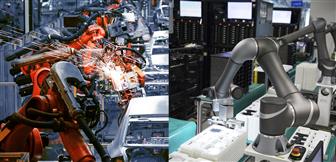 Collaborative robots (left) and robotic arms (right)
Photo: Digitimes file