China-based IC design firm Sage Micro acquires ChuZhi for CNY125 million, completing the deal at year-end 2019
Press release
China-based IC design firm Sage Microelectronics Corp. (Sage Micro) completed the acquisition of Beijing-based ChuZhi for US$18 million (CNY125 million) during the last week of 2019. According to Sage Micro founder and CEO Jerome Luo, the deal is aimed at further strengthening Sage Micro's ability to integrate high-end storage controller chips at the system level.
With the advent of the big data era, the storage sector is among the most important and fast-growing industries in recent years, promising prosperity and a bright future for flash memory chip makers including Samsung, Micron Technology and Toshiba. This also gives rise to burgeoning business opportunities in controller chips for memory cards and solid-state drives (SSD) and the start of companies including Marvell, Sandforce, as well as Taiwan-based Silicon Motion, Inc (SMI) and Phison. However, US-based firms still dominate the segment of system-level high-end controller chips in the storage market as they control the core technologies of cloud storage and high-performance servers. As the industry chain advances toward maturity, China-based system providers such as Inspur, Sugon and Huawei have increasing demand for high-end controller chips. Sage Micro's acquisition of ChuZhi matches with the China government's policy to pursue chip self-sufficiency.
So far no IC design houses in Japan, Korea, China and Taiwan have attempted to challenge US-based firms' dominance in the high-end storage controller chip segment. Focusing efforts on PC, manufacturers in Japan, Korea, China and Taiwan engage in competition on detailed spec of consumer and industrial products. They lack the market sense and presence in mass storage systems. Furthermore, their products are less known for use in program controlled switches, cellular network base stations or optical fiber communication systems compared to smartphone processors, fingerprint modules and SSDs. None of them seems to be known for producing core controller chips for mass storage devices. US-based firms including LSI, Broadcom, IBM and PMC remain the leaders dominating this segment. With the cloud storage industry undergoing waves of growth, the storage controller chip segment will continue to expand and become increasingly concentrated.
China-based Sage Micro is set to turn a new page. During the last week of 2019, Sage Micro completed the acquisition of Beijing-based ChuZhi for CNY125 million. Sage Micro is the first IC design firm in China to take over a big data system solution provider. The deal is aimed at strengthening its system-on-chip (SoC) design and applications as part of its strategic planning toward high-end chips including RAID controllers, bus aggregators and bus expanders.
As an innovator in China's storage chip industry, Sage Micro focuses on high-speed interface, solid-state storage, information security IC design and supplies USB-SATA bridge chips and SSD controllers to markets worldwide. Without state funding, Sage Micro is one of the very few among the slew of small and medium privately operated technology firms in China capable of selling products internationally. The company started out as a provider of SSD controller chips and has expanded its offerings to include flash memory controller chips supporting all interface protocols encompassing SD, USB, CF, SATA, SAS and PCIe. It was the first to begin volume production of SATA SSD controller chips and SAS RAID controller chips in China.
Luo operated his own business in Silicon Valley for more than a decade. He recently received the golden award at the World Zhejiang Entrepreneurs Convention 2019. Zhejiang entrepreneurs have performed outstandingly in business and politics in China. Luo noted that Sage Micro generated total revenue of CNY300 million in 2019, growing at a steady pace. As state-owned memory suppliers like Yangtze Memory Technology Corp establish market presence, Sage Micro can have a sure and clear roadmap for its SSD controller chip research and market development. The merger deal with ChuZhi marks a historical milestone. It is a strategic move on Sage Micro's road to localized supply of big data storage devices and servers in correspondence with the initiative to produce servers and other high-end equipment domestically after it has secured footprint in the SSD controller chip market. Going forward, Sage Micro will concentrate efforts toward high-end chips including RAID, server bus switch and expansion solutions.
The merger between Sage Micro and ChuZhi is not only a case of vertical integration in the storage sector but also an inspiration to the IC design industry. With unprecedented SoC design complexity today, it may be a good strategy for IC design firms to climb new heights by expediently expanding into the system integration business and designing high-end chips to suit system needs.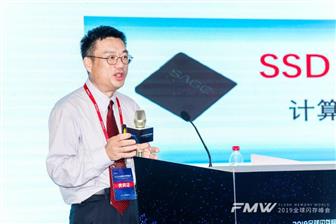 Sage Micro founder and CEO, Dr. Jerome Luo
DIGITIMES' editorial team was not involved in the creation or production of this content. Companies looking to contribute commercial news or press releases are welcome to contact us.