At the China Data Summit 2015 held in Beijing on November 5, Robin Zhou, the VP of Sage Microelectronics (Hereinafter referred to as Sage-Micro) demonstrated the worlds highest density of 2.5" SSD - The BlackDisk 10TB SATA 2.5" SSD.
After Sage-Micro announced its SATA 2.5" 5TB SSD last winter, the industry trend has been toward ever larger capacity. Other companies follow this trend to build high capacity SATA SSD, but these products are not standard offerings and thicker than standard 9.5mm drives because there are 2~3 layers of PCB to stack flash in SSD. In addition some vendors use TLC NAND to build their high density SSD but as we know TLC NAND has a much shorter life span when compaired to MLC NAND. Sage-Micro uses a 1 layer PCB and which allows for a 9.5mm standard thickness for Sage Micro massive density SSD. Sage Micro is the industry leader in ultra-stable, massive density SSD.
In less than a year, Sage-Micro launched double size SSD - BlackDisk 10TB SATA 2.5" SSD. Sage-Micro continues to use MLC NAND to provide maximum capacity while maintaining drive thickness of 9.5mm.
In addition to upgrading hardware design, Sage-Micro also develop more effictient firmware algorithms - eRAIDTM. Generally the best/burst performance is only in early stages of use with other SSD brands, but Sage-Micro's eRAIDTM technology will remain stable and sustain performance leves even and the SSD capacity limits are reached.
In next product generation, Sage-Micro is planning to provide higher-speed and density storage application such as SAS, PCIe and other corresponding solutions.
Sage-Micro, a Chinese corporation, was founded the Silicon Valley based team of Dr. Jeromy Luo and Professor Chris Tsu Early in 2002 they founded their first Silivon Vally company Baleen Systems Inc. With more that a decade of flash controller experience Baleen Systems is well known for some of the industries most unique and creative IC architectures.
Dr. Luo is a pioneer of SSD controller design in China. He is also the head of the Microelectronics Research Center of Hangzhou Dianzi University. Dr. Luo is tireless is his roles and is always on the lookout for freash talent to promote Sage Micro in China SSD storage industry.
The Chinese government has been focused on IC design initiatives over the past two years but have found it difficult to assemble the necessary talent to meet the task.Sage Micro's team has abundant experience in IC design in China and is well postioned to be part of the Chinese government's ongoing strategy. In just four years Sage-Micro is now poised to appear on the New 3rd market (OTC) and secure important capital investment objective of China's scientific and technological innovation.
Since the flash controller market has been dominated by Taiwan and the US ,It seems Sage-Micro will soon be able to change market status with their technology and with the support from Chinese capital markets.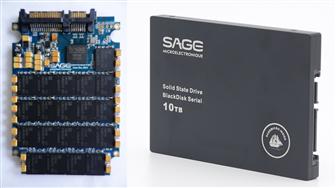 Sage-Micro BlackDisk 10TB SSD, designed to keep the 9.5mm thickness
DIGITIMES' editorial team was not involved in the creation or production of this content. Companies looking to contribute commercial news or press releases are welcome to contact us.