Taiwan stepping up development for biotech sector
Fisher Yu, Taipei; Adam Hwang, DIGITIMES
The tech-savvy Taiwan is targeting biotechnology as its next major industry sector. According to government figures, Taiwan's biotech sector's output already reached NT$500 billion (US$16.64 billion) in value in 2019.
Thanks to government policy and regulation support, 123 biotechnology enterprises have been listed, worth about NT$800 billion in total market value, said Howard Lee, partner for venture capital firm CID Group at a recent forum jointly hosted by PricewaterhouseCoopers (PwC) Taiwan and Taiwan Bio Industry Organization (TBIO) on Taiwan's biotechnology industry development.
As part of infrastructure construction,the Act for the Development of Biotech and New Pharmaceuticals Industry has been conducive to integration of experts, regulations, capital and other resources to form a sound biotechnology ecosystem in Taiwan, said Ho Mei-yueh, national policy advisor to the president.
Tien Wei-cheng, former TBIO chairman and former CEO for Development Center for Biotechnology for 15 years, indicated that the center, through linking upstream and downstream biotechnology companies, has helped upgrade Taiwan's biotechnology industry from food manufacturing and processing of agricultural products originally to R&D and production of new pharmaceuticals, medical devices and innovative biotechnological products, almost all being internationally competitive.
Taiwan-based biotechnology startups have to choose items with international market potential and thoroughly plan for patent application and third-party validation in the R&D stage and capitalize on venture capital investment to commercialize R&D results in the fund-raising stage, said BioGate Precision Medicine CEO Jeff Wang.
Taiwan-based startups should balance between benefits from innovations and feedback to venture capital investors to keep attracting funds to sustain continued innovation, Apollo Medical Optics co-founder Allen Lin noted.
In view of Taiwan's advantage in matching imaging medicine with electronics technology and international trend in development of digital medicine, Yourator was founded in 2015 to develop a machine leaning-based solution of interpreting pathological images for assisting diagnoses, company founder and CEO Joe Yeh indicated.
For Taiwan-based startups planning to raise funds abroad, the success hinges on whether they choose R&D subjects that coincide with international trends, said Eric Yang, vice president of Quark Biosciences. Quark, in view of fast growing big data analysis and awareness of health, focuses on the subject of precision medical treatment, Yang indicated.
Five Taiwan-based biotech startup companies raised NT$2.7 billion in total at IPO in 2019, decreasing 6.9% on year, according to Audrey Tseng, deputy chairwoman for PwC Taiwan.
Biotechnology startup companies should make 3- to 5-year financial plans to raise funds when the business environment is the most favorable and corporate operation is optimal, said Lin Rong-jin, chaiman for Center Ventures.
Since the IPO costs in the US and Hong Kong are as high as US$7-10 million, it may not be feasible for Taiwan-based biotech startups to raise funds abroad, Lin said. Also important is that such startup companies should evaluate marketability by considering time-to-market and time-to-peak sales, Lin indicated.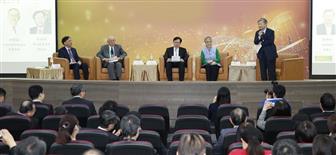 Speakers at a biotech forum jointly held by PwC Taiwan and TBIO
Photo: Digitimes, January 2020