Taiwan-based startup KaiKuTek has developed a system-on-chip (SoC) solution that combines mmWave radar technologies, antennas and AI accelerators to realize close-distance fine gesture recognition.
The advent of the 5G and AIoT eras promises huge opportunities for applications of millimeter wave (mmWave) technologies. Especially when Google's Pixel 4 smartphone allows users to skip a song, snooze an alarm or mute a call with a simple wave over the phone, gesture-based human machine interaction is catching market attention again. However, it remains quite challenging for mmWave technologies to be used for gesture recognition while achieving low energy consumption, low latency and low cost.
KaiKuTek, founded by Mike Wang with funding from JMicron Technology in 2017, has developed a solution that it says has matured to commercialization ahead of international technology heavyweights.
KaiKuTek has been chosen by the Ministry of Science and Technology (MOST) to be among 80 startup teams that will present their achievements at the Taiwan Tech Arena (TTA) at CES 2020. It will showcase what it calls the world's first 3D gesture recognition SoC based on 60GHz mmWave radar technology.
A useful solution made by a combination of technologies
Wang founded the company at a time when he had little connection in the Taiwan high-tech business but only expertise in RF and wireless communication technologies.
"I had never worked for a Taiwanese employer before I started KaiKuTek. All my research partners were working in the US at the time," said Wang.
Although starting his own business for the first time, Wang had helped build two startups when he was in the US. He helped start a company that provided RF CMOS solutions in 1999 when the Bluetooth technology was emerging. The company was later sold for US$150 million. The second startup that Wang helped establish offered indoor data transmission solutions for Multimedia over Coax Alliance (MOCA) set-top boxes. It later went public in the US, worth US$800 million at its peak.
According to Wang, KaiKuTek is not smarter than others but just integrates related technologies and leverages all their benefits to create a useful solution. Wang said he had been researching on 60GHz mmWave radar technologies in the US, but it was not until he saw Google's Project Soli three years ago that he thought it might be interesting to combine radar sensors with AI.
CMOS-based solution
Wang highlighted KaiKuTek's three major advantages. The first is its innovative mmWave circuit design, which puts up a high barrier. Latecomers will have to spend tremendous time and money to be able to catch up with KaiKuTek, he said. Second, leveraging hardware capability and software algorithm, KaiKuTek's AI algorithm achieves higher power efficiency, shorter response time and optimal energy efficiency. Third, KaiKuTek has robust technologies and capabilities in antenna design.
Despite the high bandwidth, the problem with 60GHz signals is that they do not travel far and attenuate quickly in the air. KaiKuTek is able to use this to its advantage. By using the radar only for close-range detection along with the use of directional antennas to avoid interferences from adjacent devices and increase recognition precision, KaiKuTek's solution can detect subtle finger movements. Not only does KaiKuTek make use of edge computing but it has actually implemented computing on the dedicated AI processing unit embedded in the SoC, realizing computing on the sensor and saving smartphone power consumption.
As opposed to other mmWave radar ICs on the market that are manufactured on the expensive gallium arsenide (GaAs) process or use camera-based solutions, KaiKuTek's chip is made using the more mature and affordable CMOS process. Integrating 1T3R antennas, MMICs and its proprietary AI accelerator in an advanced antenna in package (AiP) SoC, KaiKuTek's solution enables multiple benefits including fast response, energy efficiency and low cost.
In terms of applications, Wang is optimistic about market opportunities arising from the use of gesture recognition in home appliances enabled by AIoT developments. However, KaiKuTek will focus efforts on smartphones, wearable devices and gaming markets for the time being.
KaiKuTek has been putting its test chips in action at major exhibitions with an aim to provide users a new and alternative human machine interaction experience. KaiKuTek marketing director Griffon Lin noted the demonstrations now use test chips with the purpose to gain an insight into market reaction and then KaiKuTek can make adjustments to better suit user needs. Volume production for the first-generation product is scheduled for second-quarter 2020.
Gesture recognition has its advantages but it is not aimed to replace touch control. Wang thinks it can be a complementary addition to human machine interface (HMI) designs. The HMI market is big enough for different solutions to thrive, he added.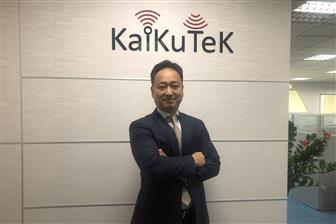 KaiKuTek founder Mike Wang