Hipposcreen Neurotech introduces AI-based brainwave diagnostic system
Staff reporter, DIGITIMES, Taipei
Hipposcreen Neurotech (HNC) has introduced a stress electroencephalogram (EEG) assessment system, a diagnostic tool that combines AI algorithms and brainwave signal amplifying circuits. It only takes the system 90 seconds to measure brainwave signals and generate scientific data that help doctors diagnose and treat depression, according to the company.
HNC, founded by a National Taipei University of Technology (Taipei Tech) research team with investment from Compal, noted that more than 300 hundred million people in the world suffer from depression and fewer than half of them are receiving treatment. In some countries, no more than one tenth of the people with depression are getting medical care.
HNC has been chosen by the Ministry of Science and Technology (MOST) to be among the teams that will present their achievements at the Taiwan Tech Arena (TTA) at CES 2020. It is hoped that HNC's participation at the event will help it expand internationally and make it a pioneer leading Taiwan's foray into the AI-based smart diagnostics systems sector.
HNC's system features high usability, fast measurement and high accuracy
The research team led by Yi Hung Liu, a professor from Taipei Tech, that founded HNC in April 2019, have engaged in the study of brainwave signal processing, AI algorithms and neuroscience analysis for more than a decade.
Daniel Weng, HNC's CTO, said the diagnosis of mental disorders, mostly depression, has always relied on the doctor's expert knowledge and clinical experience, along with the use of the patient's self-assessment reports. HNC's stress EEG assessment system is aimed to enable doctors to make diagnosis based on scientific measurements of brainwave signals and data readings so as to allow early detection and treatment.
HNC's stress EEG assessment system amplifies brainwave signals measured through EEG, processes the signals and sends the results to the cloud for analysis. The system is easy to operate, fast and accurate so it can proceed to commercialization ahead of the competition, Weng said.
Weng explained that HNC's system requires simple preparation procedures. The patient only needs to put on a black electrode cap and sit in front of the computer. Signals are collected through the electrodes. After the patient looks at the black cross on the screen for 90 seconds, an assessment report is generated to indicate the stress level with a colored distribution chart. Darker colors represent higher stress levels and the distance to the dark color zone indicates the subject's likelihood of having depression.
"The system's smart analysis achieves 80% accuracy, making it a valuable clinical reference," said Weng. The achievement is possible because when they were doing research at Taipei Tech, the team had collaborated with National Taiwan University Hospital and Harvard Medical School to collect EEG data from depressed patients and non-depressed individuals for machine learning. With the establishment and growth of HNC, they now partner with three major medical institutions in Taiwan for access to EEG data, which will help further enhance the accuracy and optimize the system, Weng said.
Expand preventive medicine to mental health care
With Compal's support in hardware, HNC said it was able to complete the device side of its system in a short time. Furthermore, with Compal's well established presence in the biomedical sector, HNC's device is expected to pass safety certifications by the end of December 2019, making it the first brainwave instrument supplier in Taiwan to obtain medical-grade certifications.
HNC plans to begin pilot operation of its first-generation stress EEG assessment system in the second half of 2020 and officially launch the system in 2021. It looks to market the system to hospitals and clinics in Taiwan in the first phase and tap the physical examination sector in the second phase.
As part of its efforts to bring its product to market, HNC is also in the process of obtaining US FDA approval for medical devices in an attempt to foray into international markets. Aside from depression, HNC is also working on developing AI algorithms to help doctors diagnose other brain-related disorders including dementia and attention deficit hyperactivity disorder (ADHD) using scientific measurement tools. The aim is to make AI an important aid to medical professionals in mental health screening and treatment.
Compal is HNC's largest shareholder, having invested NT$42 million (US$1.4 million) to hold a 70% stake.
Weng expects HNC's participation at the TTA at CES 2020 to broaden HNC's horizon, and bring opportunities for HNC to team up with with international partners.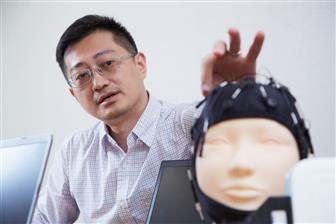 HNC CTO Daniel Weng demonstrates how to operate the company's stress EEG assessment system
Photo: Digitimes staff, December 2019