Concord Medical helps hospitals set up robotic rehabilitation centers
Mark Tsai, Taipei; Adam Hwang, DIGITIMES
Taiwan-based medical management consulting company Concord Medical has helped Hua Yang Hospital and Kangyu Clinic, both in northern Taiwan, set up robotic rehabilitation centers.
Hua Yang Hospital's robotic rehabilitation center consists of Keeogo BestShapr XO, an exoskeleton walking assistance system developed by Canada-based B-Temia, a Gloreha 3D smart robotic glove and arm for rehabilitation developed by Italy-based Idrogenet, an Andago overground gait training system with dynamic body weight support developed by Switzerland-based Hocoma, while Kangyu's consists of Keeogo BestShapr XO only, according to company CFO Liu Fu-an.
The equipment each can serve 4-6 patients in an afternoon, with a patient accompanied by a physiotherapist in a one-hour rehabilitation session, Liu noted. One-third of patients are transferred from hospitals after they received medical treatment, including surgical operation, there, Liu indicated.
Robotic rehabilitation systems detect users' articular movement and changes in such movement via sensors and then decide on when to start, accelerate or decelerate motors using AI-based analysis to help the users, Liu analyzed. Accompanying physiotherapists help users and can finely adjust such systems to reach optimal rehabilitation, Liu added.
Although investment in the establishing such robotic rehabilitation centers is high for small hospitals, it is a way to differentiate themselves in the smart medical and health care sector, said Liu.
In a bid to promote robotic rehabilitation, Concord has cooperated with high-tech companies in medical care to provide training for physiotherapists and rehabilitation specialists at Hua Yang Hospital, Liu said. Parties in the rehabilitation ecosystem are supposed to cooperate to make robotic rehabilitation concurrent with conventional rehabilitation methods, Liu noted.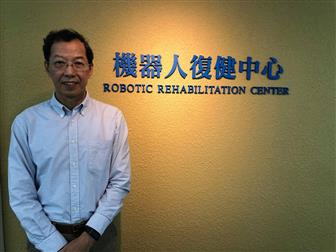 Concord Medical CFO Liu Fu-an
Photo: Mark Tsai, Digitimes, December 2019