Taiwan has strong demand for AI talent in volume and quality, and the supply of AI experts can only rely on domestic cultivation rather than overseas recruitments, according to Kung Hsiang-tsung, president for Taiwan AI Academy.
Experts in various industries will have to integrate their experience with AI, and when an AI ecosystem is formed in Taiwan, the industries will take root in the country, said Kung, an Academician of Taiwan's Academia Sinica as well as a William H. Gates Professor for Computer Science & Electric Engineering under Harvard University in the US.
AI training schools can succeed in Taiwan where doctors, bankers, electronic engineers and experts from other fields can receive training together in the same classroom, he said.
Taiwan AI Academy, during the 20 months since its establishment, has cultivated about 5,000 AI experts with background in various industries to boost industry-oriented application of AI technology, said science and technology minister Chen Liang-gee, describing Kung as Taiwan's AI navigator.
They were speaking at a ceremony on December 24 where Chen presented Kung with a First-class Science & Technology Professional Medal on Kung to praise his significant contribution to AI education in Taiwan.
Taiwan AI Academy in August 2019 began cooperation with the nine medical centers in Taiwan to provide tailored AI training in smart medical care for medical workers separately in northern, central and southern Taiwan, according to Ministry of Science and Technology (MOST). There have so far been nearly 1,000 trainees of which more than 600 are doctors.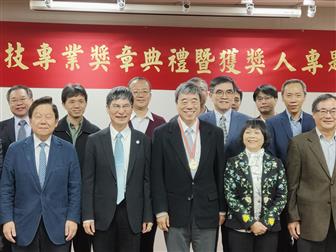 Taiwan AI Academy president Kung Hsiang-tsung (third left) and MOST minister Chen Liang-gee (second left)
Photo: Bryan Chuang, Digitimes, December 2019