Blockchain-based decentralized finance (DeFi) is gaining significant momentum, promising to be one of the most eye-catching FinTech solutions in 2020, according to Thomas Hu, founder and CEO of Kyber Capital.
DeFi can address the deficiencies in conventional financial systems, reduce operating costs, and simplify complicated banking procedures, said Hu, whose company is dedicated to venture investments in companies focusing on blockchain applications and innovative financial technologies and services.
He said blockchain is joining forces with Internet technology and open-source social media to create a new financial system.
Among major e-commerce operators with big data platforms, Amazon is now the most capable of creating a new financial system on its own, with blockchain mainly serving as a means for the company to achieve the end, according to Hu.
He said that DeFi-induced innovations will not only inspire traditional banks to upgrade their operations but also encourage blockchain talent to challenge traditional financial elites.
Three pure-play Internet banks have been approved by Taiwan's financial authorities to kick off commercial runs in 2020 - Line Bank, Next Bank and Rakuten Bank. Their business scales and bargaining capabilities will determine their impacts on the existing banking institutions, Hu said, adding that their actual performance will hinge on what services they will provide.
Hu said OneConnect Smart Technollogy, a FinTech cloud service platform under China's Ping An Insurance Group, is drawing great attention from the financial industry across the Taiwan Straits. The company has incorporated blockchain, AI, cloud platform and facial identification solutions to provide banks, insurance firms, and financial investment companies with data management, smart operations and cloud services, and now maintains up to 3,700 financial institutions, insurance firms and shopping malls as its clients in China.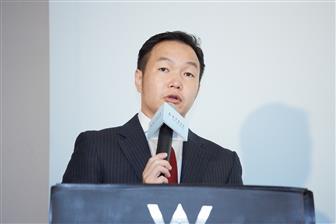 Kyber Capital founder and CEO Thomas Hu
Photo: Shihmin Fu, Digitimes, December 2019