Taiwan startup FruitPay offers a weekly fresh fruit subscription service aiming to help consumer address the inconvenience, bad quality and high price issues when buying fruits, according to company Darren Chang, founder and CEO.
Chang said through the subscription service, consumers can enjoy regular supply of a variety of fresh fruits they need, as the company can have fruit farmers deliver their products to its warehouse from where the fruits are distributed to customers based on their subscriptions. The company has contracted logistics startup Lalamove as its third-party distribution service provider.
Chang stressed that the subscription service can help fruit farmers sharply lower inventory volumes and costs, and can also help his company build a buffer pool for buying and selling fruits.
FruitPay has registered more than 2,000 users and partnered with over 500 farmers able to offer traceable certificates for their fruit products. It has delivered over 60,000 boxes of fruit since the service was launched in 2015. Most of its users are mothers and professionals, which together contribute 40-50% of the firm's revenues, according to Chang.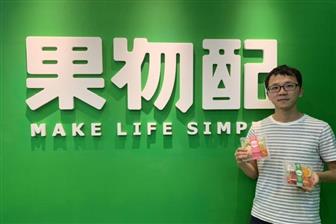 FruitPay CEO Darren Chang
Photo: Yihan Li, Digitimes, November 2019