With the goal of fueling innovation in medical devices and bridging the gap between Taiwanese startups, clinical resources, venture capitals and big-name medical device companies from Europe and the US, Show Chwan Medical Group put together the third BEST Asia Innovation Program in an effort to combine business, engineering and surgical technology - 3 essential elements for R&D innovation in medical devices.
The third BEST Asia Innovation Program is powered by IRCAD Taiwan, the Institute of Image-Guided Surgery (IHU), Karl Storz, Medtronic, BE Accelerator, the Biomedical Technology and Device Research Laboratories of ITRI, Hiwin Technologies, INTAI Technology and MedicalTek. The program came with a collection of additional features including a 1-year online course as well as a 1-week onsite course, which takes on a bigger responsibility than just a training camp for youngsters. It is also a matchmaking platform at international level for academic-industry collaborations. Students, engineers, physicians and entrepreneurs, over 200 participants from around the world attended the program this year.
The program is on its third year since 2017. Every year, domestic and foreign experts with backgrounds in healthcare, engineering and business are invited. This year in particular, the program worked closely with the BIODESIGN team including thought leader, James Wall from Stanford Beyer Center of Biodesign (US); Atsushi Nakagawa from Tohoku University (Japan); Cheng-Li Sung from the University of Shanghai for Science and Technology (China); S Perretta from IHU (France); Dennis McWilliams; Founder, Apollo Endosurgery (US); William Tai, Partner, AMED Venture (US); Avi Yaron, Founder, VisionSense (Israel) and Stefano Stramigioli, the grandmaster of robotics (Netherlands), etc. The program was also joined by Wayne Huang, Director, IRCAD Taiwan; Arthur Chen, Executive Director, BE Accelerator and BIODESIGN fellows, Tien-Jen Liu, Po-Hao Huang, Kai-Che Liu and Hsiao-Wei Tang. The event this year saw richer representation of experts and academia participation offering broad insights into corporate venture building, minimally invasive surgical strategies and the industry trend.
Show Chwan Medical Group and its international strategic partners ended the program strong with a symposium, which took place at the Windsor Hotel. The symposium focused on discussing how accelerators and capitals' investments came to drive innovation in the medical device industry. At the final session of the symposium, a memorandum of understanding serves to establish and implement joint efforts to bridge the gap between the field of business, engineering and medicine, was officially signed by IRCAD Taiwan, ITRI and BE Accelerator. Chi-Wan Lin, Director of the Biomedical Technology and Device Research Laboratories of ITRI underscored the value of the collaboration in which BE Accelerator will take on the role as VC, ITRI as the industrial innovation partner and IRCAD as the surgical innovation hub. Under the MoU, three parties will undertake efforts to strengthen the linkages between clinical practice, business and industry.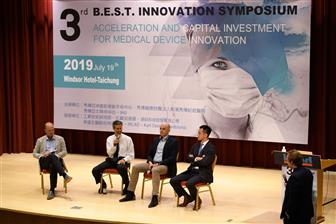 The 3rd BEST Innovation Symposium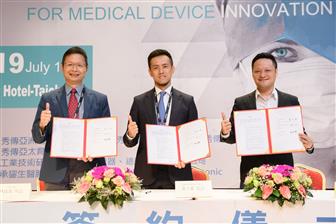 A MoU signed between ITRI, IRCAD Taiwan and BE Accelerator
Photos: Company