STSP promoting development of DIY AI, robotic efforts
Rebecca Kuo, Tainan; Steve Shen, DIGITIMES
The Southern Taiwan Science Park (STSP) has held recently a Maker community event under the theme of "Maker Builds the Future" to demonstrate the do-it-yourself (DIY) efforts developed at its AI-Robot workshop.
The AI-Robot DIY workshop, established since November 2017, was aimed at promoting the establishment of DIY communities to develop AI/AR/VR, IoT/big data, autonomous driving and smart long-term healthcare applications.
Over 50 Maker community events have been held at the workshop over the past year with over 2,000 people participating in these events, according to Chen-kang Su, deputy director general of STSP Bureau.
At the park's latest Maker event, Huang Jen-tse, a high school student, showcased his CV3 desktop CNC (computer numerical control) lathe, which he developed under the MVP (minimum viable product) project initiated by the AI-Robot workshop.
Huang also showcased its CNC lathe at Maker Faire Tokyo 2018 from August 4-5, Su noted.
Meanwhile, Lee Kuan-yu, a software engineer from ScinoPharm Taiwan, demonstrated a fish and vegetable symbiosis system enabled by Arduino monitoring system that senses the temperature and level of the water of fishing pool and also to control automatic feeding system.
The AI-Robot DIY workshop is also cooperating with a number of hi-tech companies operating in the STSP, including Castek International, Marketech International, and Information Technology Total Services, Su noted.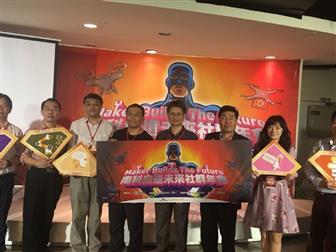 STSP promoting Maker community activities
Photo: Rebecca Kuo, Digitimes, November 2018