Taiwan-based startup Sense Innovation is actively promoting its eye-tracking mouse software, EyePlayer, in cooperation with government and enterprise sectors in the form of SaaS (Software as a Service), according to company CEO Sid Chen.
Chen said that the software is designed for people with disabilities in learning, job hunting, self-expression and other daily activities. He added that EyePlayer enables users to connect the world through the movements of their eyes, and users can easily learn how to use computer programs, browse web pages and check social networking sites.
Sense Innovation has moved to help those in need to apply for subsidies from government health units and enterprises to purchase the software or pay annual membership fees to access the SaaS platform, Chen disclosed, adding that his company has accumulated 800 cases that need such assistance.
Besides the market in Taiwan, Sense Innovation is planning to venture its EyePlayer software to China, Hong Kong and Southeast Asia, seeking to help home care, healthcare and early intervention segments better conduct relevant evaluations and judgments, according to Chen.
He stressed that his company is committed to developing diverse software and hardware solutions, such as eye-tracking wearable devices, to cater to the needs of patients of different diseases.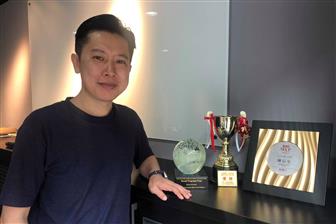 Sense Innovation CEO Sid Chen
Photo: Mark Tsai, Digitimes, July 2019