Everduit offers drone as a service
Sammi Huang, Taipei; Adam Hwang, DIGITIMES
Everduit Technology, a startup company engaged in software development, has introduced DaaS (drone as a service), sharing drones for short-term services, among operators of suburban hotels, scenic spots, outdoor recreational facilities and leisure farms and ranches, according to company CEO CJ Lai.
Everduit was established by Taiwanese entrepreneurs, with headquarters in Silicon Valley and an R&D office in Taipei.
While most customers are reluctant to buy drones that they do not use frequently or find it technical difficult to operate them, Eversuit is motivated to promote DaaS, Lai said. Everduit uses in-house-developed Virtual Private Drone, a patented software system based on cloud computing, edge computing, AI and IoT to implement DaaS, Lai noted.
Everduit, specifically for boosting DaaS, has developed Go Drone, a software solution to enable business operators to provide DaaS for their visitors or customers: they can use Everduit's app, which supports Android and iOS, to request drones, and drones will then fly to take photos or record video fo 3-5 minutes in the designated areas with geo-fencing already set by Go Drone, Lai noted. Through hardware and software settings in advance, drones can automatically come, fly and return, Lai explained.
Competition is increasingly intense among consumer drone makers, as there is little hadware differentiation and therefore they have to appeal by price, Lai indicated. But there is a market niche for drones for specific purposes such as agriculture, factory or infrastructure inspection, and security patrols, Lai noted.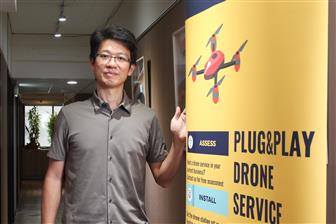 Everduit Technology CEO CJ Lai
Photo: Shihmin Fu, Digitimes, June 2019