With the rapid development of artificial intelligence (AI) and Internet of Things (IoT) applications, the smart edge technology will be a major enabler for the evolution of the digital business, creating new business model and value through dynamic interactions between people, business and things. The smart edge systems will complement cloud computing by providing services with faster response, greater quality, more immersive interactions and more intelligence at the front end, closer to where people and things exist. The impressive use cases include autonomous vehicle, autonomous retail store and more factory automation systems.
Founded in 1979, SECO is an Italy-based leading embedded system and industrial solution provider with complete control over the entire design cycle to mass production of embedded solutions. For a strong brand presence in European market, the company has successfully introduced various medical solutions covering the computation modules of ultrasound equipment to complete healthcare tablets in recent business development. The Computer on Module (COM) is one of the most popular product series of SECO. It offers cross-platform features with a modular design aiming to provide flexibility to switch different CPUs between X86, ARM and FPGA-based architectures with the same form factor standards. SECO maintains long-term partnerships and offers product lines powered by AMD, Intel, NXP, Nvidia, Qualcomm and TI embedded processors.
Gianluca Venere, SECO SVP Strategy & Business Development, explained the company's new business model and global strategies for developing embedded system market sectors. Venere is very positive about the smart edge technology development. Because at the end devices with the evolution of the AI on an energy efficient hardware, people will see more and more autonomous things that proactively create new business opportunities through immersive interactions with people. Edge computing brings massive compute to the data locally and only forwarding analytic data or metadata that makes sense to the cloud data center. The machine learning technology and trained algorithm to the edge enables business automation to generate the value, especially when the algorithms and data are very location-specific.
In the consumer electronics sectors, the AI-enabled devices get more attention including smartphones, smart speakers and smart earbuds. These smart devices are leveraging the improvement of photo quality or manage the acoustic beam-forming to optimize the noise cancelling for sounding effects. Meanwhile, in the embedded market, there is a big adoption of machine learning algorithms to do predictive maintenance, object recognition and manage sensors to prevent machine down time or accident.
The embedded systems and industrial PC industries are looking at various vertical solutions and technologies to increase manufacturing productivity and foster industrial growth. SECO, in particular, has developed an ad hoc software suite to optimize and guarantee the maximum performance of a low power and energy efficient hardware integrated in its modular single board embedded systems. Taking computer vision for example. SECO has developed optimized edge solutions with dedicated accelerators leveraging OpenCV for convolutional neuronal networks and inferential methods.
New Edgehog platform helping customers to build IoT-ready solutions
For predictive maintenance, SECO is releasing a dedicated firmware that runs in the background in dedicated edge gateway acting like an immune system of human body for detecting system failure to isolate the extraneous processes in the CPU and RAM, sending an alert to the IIoT cloud service created by SECO product development teams. SECO names these software stacks and cloud services as Edgehog platform. With the unique strength of cross-platform technology to provide customers with flexible and fast time-to-market solutions, SECO has been servicing the fast growing embedded system markets for 40 years. Through Edgehog platform support, SECO creates an innovative business model transforming the product into a service and helps customers with its design efforts to be a market leader in the Industrial IoT (IIoT) sector.
Venere noted that the IIoT trend enables new business models transforming products into services, but that requires a deep process of transformation and innovation in the company. For achieving this challenging objective, SECO needs a completely new approach to the embedded market. That's why it is designing its products with a customer-centric approach applying agile methods moving the attention to the software and firmware development and implementation.
SECO built its innovation center - separate from its hardware R&D unit - many years ago in order to have the freedom to create an innovative use case without any sales and financial pressure. After several years of development, SECO has launched Edgehog platform and is able to provide the services of "hardware as a solution", with which customers can get the benefits of its technology as a service, Venere added.
The commercial offerings of Edgehog platform will be divided into three service models. In the first model, which is in the product prototyping phase, there is a fast and free of charge access to the Edgehog portal allowing customers to setup their proof of concept. It is very critical when the customer has first developed a business use case and identified ecosystem partners who will be capable of building solutions in time. So providing zero cost and fast access service will be the key for this service model.
The second model is "pay-per-use" helping customers minimize the risks of smart solution deployment and early stage services. SECO's software, firmware and hardware-based services enable customers to bundle product offerings, services and feature sets in new and creative ways that generate incremental revenue streams in the form of pay-per-use models.
In the third model, SECO provides "solution-as-a-service" to help customers quickly scale up the services and accelerate operator revenue. These three unique value propositions enable customers to differentiate their products and services in the market leveraging an ad-hoc design through a standard and flexible platform of SECO product offerings.
During Computex 2019, SECO will showcase at its booth a full range of products at Nangang Exhibition Hall 1, booth no K1015. The live demonstration will include the solution of Qseven, COM Express and SMARC product lines to allow visitors to have a good chance to have real experience to see the advanced solutions powered by a leading European embedded solution provider.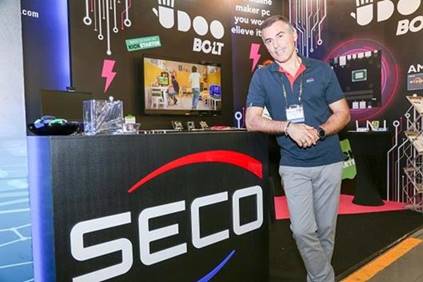 Gianluca Venere, director of global sales & chief strategy officer, SECO
DIGITIMES' editorial team was not involved in the creation or production of this content. Companies looking to contribute commercial news or press releases are welcome to contact us.