Two major tech events held annually during the first quarter are the Consumer Electronics Show (CES) and Mobile World Congress (MWC). ThroughTek started the year off showcasing the world's first 4G LTE-M network camera, a product developed through a collaboration with module maker, Sierra Wireless, and video solution provider, LOCT. Following CES in the United States, ThroughTek will be exhibiting at MWC in Spain starting on February 25 with the aim to attract telecom industry providers' looking for opportunities to collaborate.
The device supports LTE-M standards for data transmission, using P2P connection and cloud platform services to transmit real-time videos without relying on Wi-Fi connection, enabling further expansion of video monitoring applications. It is expected to revolutionize a new wave of products in the security, connected car, smart industry, and smart agriculture industry.
The emergence of the LTE-M camera means that low power wide area network (LPWAN) technology can be deployed beyond sensing devices
In the past few years, telecom operators have invested in the construction of LPWAN IoT infrastructure. However, video surveillance devices have been constrained by high cost of modules and network bandwidth. The market has yet to offer a low-cost product with the ability to monitor and provide seamless transmission of videos in outdoor environments.
LTE-M is a standard proposed by 3GPP to support machine-to-machine (M2M) communications. Covering a wide area, LTE-M boasts low-power consumption and low latency at a low-cost. During the MWC in 2017, several telecom operators jointly announced their support for global LTE-M deployment. This year, ThroughTek will be exhibiting the world's first LTE-M IP camera, embedded with a chipset that enables video compression and processing to deliver low-latency video streaming with greater efficiency. The device is battery-powered, designed for low-power operation to extend its battery life. Furthermore, the device is not restricted to indoor environments as it meets the IP-65 rating requirement, which means it is both water and dust-proof, and can be complemented by a solar charging panel that is available for purchase.
A wide range of devices will emerge as IoT applications continue to expand. The LTE-M camera is a video monitoring device advanced from a sensing device that can be support large-scale deployment and data transmission. The device is suitable for use in outdoor environments such as farms, fish farms, or remote areas, as it uses 4G connection to provide seamless live streaming videos. Additionally, the LTE-M camera can effectively help operators reduce the cost of network connectivity and power line construction. Moreover, its camera module can further expand video applications to other areas and forms, such as sporting camera, dashcam recorders, police camera systems, and more.
Seamless integration of security devices and sensors with enhanced data streaming privacy and security
More recently, smart home devices have gradually integrated into entire family systems. In the past, manufacturers would need to work with individual cloud platform and video analytics providers to integrate motion sensors, monitoring devices, and gateways to achieve remote control, monitoring, and automation through custom settings and more features. This type of collaboration leads to a significant increase in time and labor costs. ThroughTek, originally focused on providing wide bandwidth data transmission and video streaming solutions, has since changed course to provide narrowband data solutions to meet market demands. Another one of ThroughTek's main focus at this year's exhibition will be to demonstrate its latest narrow-band data transmission technology. With data security as a primary concern, ThroughTek uses a decentralized design for its solution, using end-to-end encryption to enhance privacy protection for users. It also supports IFTTT (short for IF This Then That) for automating tasks and smart voice assistants such as Amazon's Alexa to enable users to easily manage their devices and create custom scenarios.
ThroughTek will once again participate in the Taiwan Pavilion supported by the Taiwan's Ministry of Economic Affairs at MWC's four-day event, showcasing its advanced video streaming technology along with a number of IoT applications and products. Come and visit us at our booth in Hall 5, #5A61.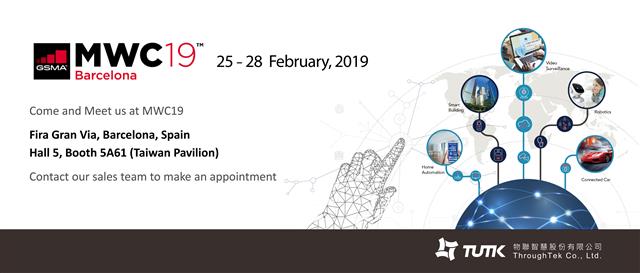 ThroughTek's LTE-M IP camera catches attention from telecom providers at MWC
DIGITIMES' editorial team was not involved in the creation or production of this content. Companies looking to contribute commercial news or press releases are welcome to contact us.