Leveraging Taiwan's IT industry forces, the Industrial Bureau of the Ministry of Economic Affairs invited nine vendors from various IT fields, including ThroughTek, Chunghwa Telecom, Everspring and ITRI to represent Taiwan Pavilion for the Mobile World Congress 2018 in late February this year. This year, the Taiwan Pavilion, already well-known for quality hardware manufacturing, will be spotlighting Taiwan's software development capabilities, including cloud-based applications, mobile communications and big data analysis.
ThroughTek is the first Taiwan cloud platform vendor to gain recognition and reputation in China and then launched into Europe and US markets. In the past 10 years, with its accumulated years of software technology expertise, ThroughTek has successfully helped Chinese hardware manufacturers to further expand their markets into Europe and the United States. In recent years, more IoT applications have been developed, and ThroughTek, with in-depth software technology background focusing on cloud platform development, has been actively sought out by many European and American brands for direct collaboration.
ThroughTek's Kalay cloud platform has a superior peer-to-peer (P2P) connection technology, allowing for IoT products, including IP cameras, doorphone, smart robots, dashcam, and smart home devices to quickly connect to the internet. By using ThroughTek's patented technology of easy setup via QR Code scanning to resolve the complex set-up situation for end users, and help brands improve their user experiences and reduce customer service costs. A successful case study representation is Guardzilla, a well-known IP security camera brand in North America, that launched Guardzilla 360 HD Security Camera in 2017 using ThroughTek's technology, and promptly named as CES Annual Innovation Award Honoree this year. Additionally, Guardzilla 360 and Outdoor HD Camera was the No.1 and No.3 best seller security camera in top three retailers Best Buy, Target, and Walmart in the US.
This year, at the MWC Taiwan Pavilion booth, ThroughTek will be demonstrating how its customers has utilized the Kalay Platform solution to transmit and store video data, and provide backend analysis to manage and control device connectivity and other services. ThroughTek will be presenting popular products that use the Kalay Platform solution including Xiaomi Home IP Camera series, Guardzilla's low power consumption doorphone and 360 HD Security Camera; and Furbo Dog Camera from Taiwan-based Tomofun, recently featured on the Ellen Show a well-known talk show in the United States, and Hong Kong-based Vtech's smart home devices. ThroughTek has been continuously chosen by established brands for long term partnership, including China's Xiaomi, Hikvision, Foscam, Raysharp, and European and American brands including Guardzilla, Swann, WWM, Bosch, Lorex, Hesdo, Amped Wireless, Olympia, to name a few. Application areas include security monitoring, smart home, IoV and other in-depth end user IoT applications.
There are very few cloud platforms in the market comparable to ThroughTek's Kalay Platform, capable of providing video transmission and storage with high efficiency and low operating costs. Therefore, ThroughTek has unrelentingly focused on image-related solutions, allowing surveillance images from different domains to be instantly viewed, transmitted and stored on the Kalay platform, and improved remote management of hardware devices. At the end of 2017, ThroughTek launched video surveillance solution, "VSaaS 3.0", a new generation of VSaaS across different browsers (including IE, Chrome, Safari, Opera, Firefox) to view live streams. Differentiating from peers that mostly build forwarding (relay) servers requiring increased operating costs, Kalay VSaaS technology uses peer-to-peer (P2P) connection on smartphone app to view live streams , or playback videos stored in the cloud by RTMP, significantly saving on operating costs while offering the best end-user experience.
ThroughTek is a one-of-a-kind Taiwan-based company that uses software foundation as the starting point for market strategy in IoT industry and has once again been invited back to headline Taiwan Pavilion at MWC in Spain to demonstrate the latest cloud service solutions. For four days in Barcelona beginning from February 26th, the Taiwan Pavilion's nine companies will work together to showcase the soft power of Taiwan's IT industry. ThroughTek will also present diversified applications of video surveillance in the field of Internet of Things to international buyers. ThroughTek's future development potential is expediential.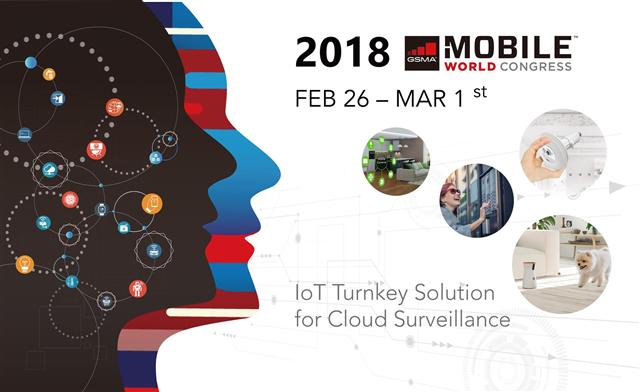 ThroughTek advances to Barcelona MWC Show headlining at Taiwan Pavilion
DIGITIMES' editorial team was not involved in the creation or production of this content. Companies looking to contribute commercial news or press releases are welcome to contact us.