Taiwan's Ministry of Science and Technology (MOST) will lead 44 tech startup companies to attend CES 2019 in Las Vegas in January 2019, MOST minister Liang-Gee Chen announced on Wednesday.
The minister made the announcement at Taiwan Tech Arena (TTA), which will organize a national pavilion at CES' Eureka Park to showcase the country's tech strengths to the world, creating a stage that connects Taiwan startups with the global ecosystem, resources and industries to create business opportunities estimated at NT$4 billion (US$129.71 million).
Chen urged Taiwan's companies to support local startups with their financial strength and experience.
Chen said there wasn't any angel investors in Taiwan in the past, but it has now started to see some. MOST has ambitious goals for helping establish more startups, but that will need a lot more angel investors, he said.
Eight of the startups in the TTA team have been named winners of the CES 2019 Innovation Award: EleClean, Genius Holdings, Gintel Tech, Han-Win Technology, Lubn, Omnieyes, Starwing Technology, and Taiwan Main Orthopedic Biotechnology.
Chen pointed out that two Taiwan startups won the Innovation Award at CES 2018, which marked the first time that a MOST-arranged team had showcased Taiwan's IT prowess at the annual event. The Taiwan team to CES 2018 consisted of 32 companies.
The 44 TTA startups going to CES 2019 are mainly selected from six high-tech fields covering IoT (25%), cyber security and software (20%), AI (18%), healthcare (14%), wearables (14%), and advanced manufacturing (9%).
Launched in June 2018, TTA is a pioneer program funded by MOST. The program aims to connect global resources, build a more tech startup friendly ecosystem, and foster high-tech entrepreneurships in Taiwan.
TTA hopes to attract global and domestic talent and actively foster the innovation of technology industries by building a co-creation platform for startups, accelerators, venture capital, and corporate partners.
Via participating CES 2019, TTA looks forward to connecting global investors for its team, having further industrial cooperation, and enhancing Taiwan's reputation in global high-tech ecosystem.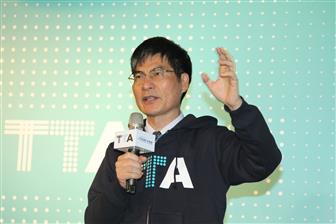 MOST minister Liang-Gee Chen at TTA
Photo: Shihmin Fu, Digitimes, December 2018