Taiwan startup iHome Smart Technology, a dedicated developer and provider of e-commerce solutions, has set up an online trading mart dubbed MoBro 178 while also issuing blockchain-based token dubbed MOT and consumer reward point coin dubbed MOC as double wallets to set up a shared growth mechanism for the mart and virtual currency, according to the firm's chairperson LJ Chen.
Chen said that her company will have MOT listed on a Hongkong Bitcoin exchange house in December 2018. She said that the listing is not designed to raise funds, but to provide a more advanced and convenient trading model for MOT investors and MoBro mart members and secure stable growth of mart coin values.
The firm's innovative operation manager YT Hung also noted that MoBro will provide consumers with MOC as reward points for their patronage, with the MOC to generate more values for the mart and made available for international trading.
Hung said that MOC holders can complete exchanges between MOC and MOT through MoBro app, and then MOT holders or investors can directly exchange their MOT for other digital tokens after MOT is listed on the Hongkong Bitcoin exchange house in December.
Consumers can use app to complete exchanges between MOT and MOCs they get in any MoBro point of sales in Taiwan and other countries, while merchandize providers can also rely on the MoBro trading platform to easily access international markets, according to Hung.
Meanwhile, Chen stressed that her company will actualize the application of blockchain technologies to management of shopping malls to keep good records of product traceability, shipment conditions and cash flow.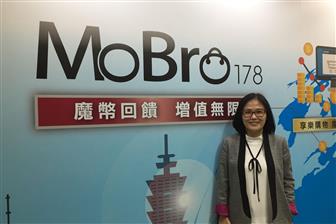 iHome Smart chairperson LJ Chen
Photo:Yihan Lee, Digitimes, November 2018