ITRI develops drone-based imaging solution to detect PV module hot spots
Yihan Li, Taipei; Adam Hwang, DIGITIMES
The Center for Measurement Standards under government-sponsored Industrial Technology Research Institute (ITRI) is developing a solution integrating images taken by drones for detecting hot spots on PV modules of power stations for maintenance purposes.
A PV module is made of either 60 or 72 crystalline silicon solar cells. Hot spots occur when too much current and voltage are accumulated on one or more solar cells of a PV module. Consequently the cells' temperatures are too high and overall power generation decreases, the center explained.
The higher the temperature, the shorter wavelength the infrared light emitted. Drones can be used to inspect a large number of PV modules by capturing infrared images for computerized analysis to locate hot spots for repair, the center indicated.
Drones cannot fly too high, for infrared images taken may contain unclear or inaccurate informaiton. Therefore, drones should fly low enough to capture many infrared images. The key problem in developing the drone-based solution is how to locate hot spots from many infrared images, the center noted.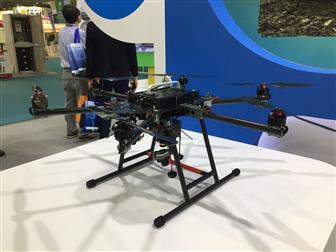 An ITRI-developed drone for inspecting PV modules
Photo: Li Yihan, Digitimes, October 2018