The ASEAN market sees fast growth in e-commerce, with total transaction value increasing by about 20% annually, according to ASOCIO (Asian-Oceanian Computing Industry Organization) chairman David Wong Nan Fay.
Wong, who is also founder and CEO of Malaysia-based logistics service provider SnT Global, was speaking to Digitimes on the sidelines of the ASOCIO Smart City Summit 2018 that took place in Hanoi, Vietnam, during September 18-19.
The e-commerce transaction value in ASEAN takes up about 10% of its total retail and wholesale market currently, and the proportion will keep rising to 30% eventually, Wong said.
Wong noted that chain convenience stores function as places for e-commerce customers to collect purchased items in Taiwan.
He said this is a delivery model very suitable for densely populated cities in ASEAN, and SnT Global is setting up networks of delivery spots as part of its logistics services for e-commerce operators in the ASEAN market.
In the Malaysia market, SnT Global has set up about 2,000 delivery spots and plans to expand the network to 10,000 in two years, Wong said, adding that the goal is to ship the goods within three hours of receiving orders.
The Malaysia government in 2017 decided to develop a Digital Free Trade Zone in Kuala Lumpur through cooperation with China's e-commerce giant Alibaba Group, in a bid to help Malaysia-based small- to medium-size enterprises export products via e-commerce, Wong said.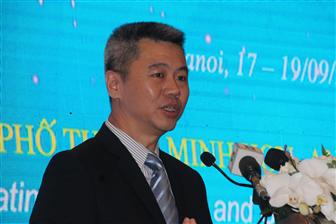 David Wong Nan Fay, ASOCIO chairman and CEO of SnT Global
Photo: Digitimes staff