Bluetooth low-energy indoor positioning solution developer Starwing Technology has reached a high technological accuracy level of 10-30cm in positioning error, much lower than a general level of 3-5m, according to the company.
Starwing develops indoor positioning technology based on analysis and prediction using artificial neural network and AI (artificial intelligence) deep learning. The technology is used in indoor positioning, monitoring, safety early warning, tracking and hot spot analysis at railway/bus stations, airports, department stores, museums, factories, warehousing/logistics facilities, and medical care scenarios, Starwing indicated.
At highly automated factories, accurate positioning is essential to feeding components/materials, assembling components and carrying finished products, Starwing said.
For medical care, positioning tags with biometric monitoring functions can help track patients and understand their physiological conditions, Starwing noted.
Indoor positioning technology can be used in jails to monitor inmates, Starwing indicated.
Starwing said it has been in talks with many hospitals in Taiwan about cooperation, and will cooperate with partners in Dubai, United Arab Emirates, for setting up an IoT booth at World Expo 2020 to take place in Dubai during October 20, 2020-April 10, 2021.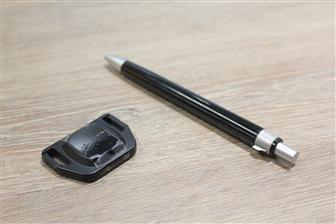 Starwing's indoor positioning device (left)
Photo: Mark Tsai, Digitimes, September 2018