Taiwan-headquartered Ucarer, which helps connect Chinese seniors who need in-home care with homecare professionals, is seeking series B funding as it begins to expand business to Silicon Valley.
With its recent launch in Silicon Valley, Ucarer has become the first homecare service platform that specializes in serving the Chinese community in the US.
Tech startups are raciing to gain foothold in the homecare space where demand for high-quality and personalized in-home care is growing. Ucarer cited Aging in Place Technology Watch as indicating that tech-enabled homecare startups have received more than US$400 million of funding as of 2018. Chinese in-home care market is underserved largely because of cultural elements and yet Chinese homecare players are currently still in an infancy stage.
Ucarer said it has raised US$1.5 million in series A round, led by Taiwan-based family funds in 2017. The company started in 2015 in Taiwan by co-founders Hung-yi Chen, David Lin, and Wilson Liu. The founding members each have two decades of experiences in ecommerce operations, software development, and caregivers management under their belts.
Prior to Ucarer, Chen, now Ucarer's chairman, started his career in CRM (customer relationship management) product development management at Oracle, and later came to manage products in different lines of business within Oracle. Then he was CIO and VP of Monday Tech Taiwan, an ecommerce company which was later acquired by Yahoo. Throughout his work and living experiences in Silicon Valley, Taiwan and China, Chen said he understands the homecare needs of the Chinese community.
"In addition to Taiwan, the Chinese American market in Silicon Valley is the market we're aiming for," said Chen. "There are over seven millions of Chinese immigrants in the US and Canada, and 10% of that population is living in San Francisco Bay Area. The SF Bay Area market demand is around US$250 million annually," he said.
Chen also explained that the plan is to use the new capital to further penetrate the Taiwan market and to develop business in the US market. The company chose to land in Plug and Play Tech Center in Sunnyvale with the initial focus on the Chinese market in Silicon Valley.
Jessica Su, Ucarer's caregiver support director who is in charge of the management of caregivers, said "caregivers who want to offer their services via the platform are thoroughly interviewed and qualified by Ucarer before their detailed information can be added to the portal. Through the know-hows in screening processes, we can deploy the caregivers quickly and carefully."
Ucarer started in Taiwan and plans to expand the service to Chinese population all over the world. In Taiwan, the platform offers its customers different care service providers, ranging from certified caregivers, nurses, occupational therapists, physical therapists, and creative arts therapists.
"We're not simply taking the business model from Taiwan to apply in the US," said Chen. "We want to build Ucarer as a household brand name in the US with expanded service to include massages and acupuncture therapists," he added. After launching in Silicon Valley, the company plans to expand to southern California next and eventually all over the US.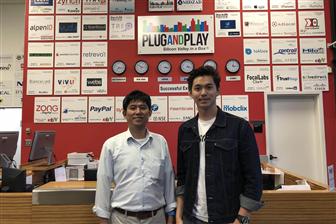 Ucarer co-founder and chairman Hung-yi Chen (left), and team member Adam Lin at Plug and Play Tech Center in Sunnyvale.
Photo: Company