ITRI, AIDC, Mirle co-develop robotic arms for aerospace components production
Chloe Liao, Taipei; Adam Hwang, DIGITIMES
Taiwan's government-sponsored Industrial Technology Research Institute (ITRI), Aerospace Industrial Development (AIDC) and Mirle Automation have cooperated in developing high-precision robotic arms specifically for manufacturing aerospace components.
Aerospace components makers have usually used 5-axis machine tools in their production, but because such tools are very expensive, they are seeking to use robotic arms to reduce equipment cost by 60%, ITRI said.
Currently, aerospace components makers have employed robotic arms in around-cutting, drilling, grinding, polishing and assembly of aircraft skin, ITRI noted. However, there is a technological bottleneck in using robotic arms in manufacturing aerospace components: precision positioning is difficult to meet the required level of ±0.25mm, ITRI said, adding currently, precision of robotic arms with high payloads generally ranges between ±1mm and ±10mm.
To solve the problem, ITRI has developed EtherCAT-Motion Intelligence Orchestration (eMIO), a robot controller platform capable of reducing deviation in positioning to a precision level of ±0.23mm. Production cost for Taiwan-made robotic arms equipped with eMIO is estimated to be 50% lower than those with the same precision offered by international vendors, ITRI indicated.
ITRI, AIDC, Mirle jointly exhibited an eMIO robotic arm at the recently concluded Tawian Automation Intelligence and Robot Show in Taipei.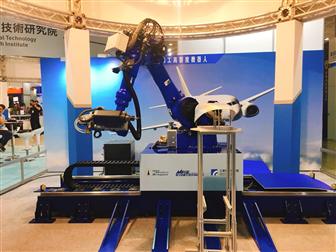 An eMIO robotic arm
Photo: Chloe Liao, Digitimes, September 2018