Power supply product maker Mean Well is seeing steady growth in sales from the industrial power sector - a sector that it has been working in for over 30 years - as more factories switch to automated manufacturing. The company's LED drivers business has also witnessed staggering increases in orders from the consumer lighting, plant lighting and medical care equipment segments. The firm currently is staying firmly as one of the top-tier power supply makers worldwide.
Digitimes recently visited Mean Well to talk to the company's executives: Yvonne Chen, marketing manager of Marketing Department; Alfie Yu, regional manager of Sales Department; and Alex Tsai, director of Marketing Department, to talk about the industrial power industry's current status and Mean Well's operations.
Q: What products does Mean Well sell? What kind of business model does the company have?
Chen: Mean Well was founded in 1982 and is a company primarily focusing on supplying own-brand standard LED drivers and power supply products for industrial applications. At the beginning, the company was an OEM/ODM service provider, helping to manufacture PC-use power supply devices for brand vendors, but it turned to the industrial power supply market after four years and created the Mean Well brand in 1986, as it expected better business potential in the area.
Currently, Mean Well has around 500 licensed distributing partners worldwide and 70% of Mean Well's revenues are generated by these partners, while the remaining 30% are earned through the company's direct account.
Yu: The LED driver is currently the largest product line of Mean Well, surpassing the industrial power supply, which was the company's main revenue contributor 10 years ago.
Q: How is Mean Well's industrial power business performing? How is the business' outlook?
Yu: Most of Mean Well's industrial power products are for automation applications and can be applied in places such as factories, equipment and power rooms. Unlike our LED driver business, which enjoys a rapid rise catching the tailwind of market's surging demand, Mean Well's reputation in the industrial power supply industry was slowly earned through clients' positive feedbacks.
LED drivers currently contribute 40% of the company's revenues, while industrial power products account for 30% and emerging applications including gaming, Internet of Things (IoT) devices, occupy the rest of the 30%.
Tsai: Demand for industrial automation and IoT devices is on the rise, and Mean Well will continue to benefit from the trend as these machines will require more sensors and communication modules to function, translating to more demand for power supply products for these components.
Although Mean Well's industrial power supply business is not seeing a surging growth similar to that of the LED driver, the company will continue to experience stable revenue growth from the business since the industry is always seeing the emergence of new technologies such as automation and artificial intelligence (AI).
Q: What is Mean Well's status in the LED driver market?
Chen: According to a research firm's figures about 2017's LED driver market, Mean Well was the second largest LED driver supplier worldwide with a 6.6% market share, behind only Phillips.
Yu: Mean Well's advantage in the LED driver business is at its medium-to-high-wattage product lines. Demand for our above-100W drivers is especially strong due to their competitive price/performance ratios. We are currently developing an above-1000W driver, which is scheduled to be released in the near future.
We also cover small-wattage products, but the sector is not one of the priorities of our current operation as it has already become a battlefield of fierce price competition.
Another advantage Mean Well has in the market is that we are able to provide LED drivers that meet the regulations of different markets as each market may have different rules on power products. Our products also feature in-house designed power efficiency technologies to help client save costs.
Mean Well was one of the earliest players in the LED driver market, launching its first product in 2006. The years of experience in the development of the product line have given us a competitive edge.
Tsai: The LED market has been growing rapidly for the past few years with demand initially coming from governments' infrastructure projects such as streetlight installment, and then gradually penetrating into the consumer lighting segment.
Despite the fact that consumer LED lighting products have been enjoying strong sales, the growth will eventually slow down because of LED's slow replacement demand as a result of its long product life of at least five years. To avoid the risk, Mean Well has been actively pushing its products to non-consumer areas including automotive and biotechnology.
For the biotechnology industry, Mean Well is seeing strong orders for plant lighting applications from North America and Europe and has seen our LED drivers being adopted in medical care applications.
Since plant lighting systems are usually required to be in operation 24 hours a day to keep the plants under steady temperatures, related players need to have reliable LED drivers with high wattage output that can work steadily and are power efficient. Mean Well's expertise in the LED drivers is able to satisfy these players' demand in product quality and stability and we expect the business area to have a strong potential in the long run. We have already received many inquiries for our upcoming new high-wattage drivers from plant lighting clients.
Q: What are Mean Well's main target regions? What new markets does Mean Well plan to expand into?
Chen: China is currently our largest market, accounting for 45% of Mean Well's revenues, followed by the Europe, Middle East and Africa (EMEA) region with a revenue proportion of close to 30% and Pan America 13%. The rest is from Asia and Taiwan.
However, around 50% of our power product shipments to China are later transported to Europe and North America in our clients' final products such as lighting devices or automation equipment.
Because of the high revenue share from China, we have been pushing expansions, aiming to boost our sales from other markets to lower the risk. For 2018, we are targeting several emerging markets such as Brazil, Russia, India, as well as South Korea for the expansion plan and have increased our effort in these markets' operation.
Tsai: Mean Well currently has distribution partners in all of the markets we have entered and is planning different business strategies for each region depending on their specific characteristics, to widen our reaches.
Q: Is Mean Well developing products for any new applications?
Yu: We have seen increasing orders for emerging applications such as IoT devices and gambling machines and also orders for power supplies used in arcade stores' claw machines and game consoles.
However, Mean Well does not have a specific product line for these particular applications so the clients usually procure power supply devices from our existing industrial power series for their needs.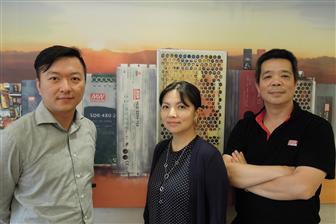 Mean Well executives: Alfie Yu (left), Yvonne Chen (center) and Alex Tsai (right)
Photo: Joseph Tsai, Digitimes, August 2018