Technology only accounts for 25% of what makes a startup successful while the CEO's leadership can contribute to 50% of its success, said Chun P Chiu, national policy advisor to the president of Taiwan, InnoBridge Capital's Senior Advisor and an angel investor, who has funded more than 100 startups over a 20-year period.
Born in Taiwan, Chiu received a bachelor's degree in electrical engineering from Waseda University in Japan and a master's degree in electrical engineering from Oregon State University in the US. He designed the industry's first computer system-on-chip (SoC) and later engaged in R&D of DRAM, SRAM and flash memory chips. Chiu was in charge of mini computer research at Hewlett-Packard (HP). After he left HP in 1980, he founded Integrated Device Technology (IDT) with four partners, working on the development of SRAM fabricated using CMOS technology, an area where there was little research at that time. Four of the founders including Chiu were of engineering backgrounds and didn't know the first thing about fundraising. Later they recruited someone from AMD to be their CEO and the company successfully went public in 1984.
Angel investors have valuable business connections
During his time at IDT, Chiu transcended from his role as an engineer and took on challenging marketing and sales work. He established a Japan subsidiary for expansion into the Japan market, which has always been known for its stringent requirements on product quality. Chiu was lucky to have old classmates working for distributors and his customer Fujitsu so they were willing to try out IDT products and help with the testing. Following Fujitsu, Toshiba also became IDT's customer, making IDT the only American company successfully penetrating into the Japan memory market, which contributed 10% of IDT's revenues. Having completed his mission, Chiu decided to retire from his position at IDT. Afterwards, in 1989, based on his technological expertise and experience, Chiu founded another company, QSI, and made himself the CEO. QSI went public in 1994 and was acquired by IDT in 1998, when Chiu formally retired and began angel investing to this day.
Drawing on his 20-year experience as an angel investor and venture capitalist, Chiu spoke frankly that more than 70 startups that he invested in went belly up, 10 are barely alive, five successfully went public and seven were acquired. The most successful one is network security equipment provider Netscreen, which was the first to make use of ASIC chips. Going public in 2001, Netscreen was later acquired by Juniper Networks for US$4.3 billion in 2004. The deal gave Chiu 200 times return on investment. Chiu helped recruit Frank Marshall from Cisco to join Netscreen as an advisor. Chiu thinks the move contributed to Netscreen's huge success. Marshall not only recognized Netscreen's technological strength but also helped the team set a product R&D direction. He also invested in the company himself and assisted in the search for a suitable CEO. As he thinks a company's success hinges on whether the management can work as a team, Marshall insisted all three founders must reach consensus on who should be hired as the CEO. Then, everything worked out.
The deal that took Chiu by surprise the most was Azalea Networks in 2008. The wireless mesh network communication technology the company developed was very competitive at the time. Chiu thought Azalea Networks had very promising outlook and provided pointers for company operations at monthly board meetings. However, the founder from China was not satisfied with the slow growth in the US market and decided to return to China to bid for a 2008 Summer Olympics project. Unfortunately, Azalea Networks was unable to collect payments after completion of the project, which put the company in dire financial difficulty. Chiu came to rescue again and finally helped find a buyer - Aruba Networks - to acquire Azalea.
Marketing and sales play a pivotal role in corporate success
Drawing on his experience in starting his own businesses and angel investing, Chiu gives suggestions to Taiwan entrepreneurs with respect to the preparations they have to make in order to reach success.
Know what the market wants
Marketing and sales is key to a company's success. A business leader has to figure out what the market needs and whether the company's technology matches the need. What Chiu used to do was to call field application engineers (FAE) stationed at customer sites back to join sales specialists and R&D engineers in brainstorming meetings every quarter so that the company could stay on top of customer needs. Chiu warns that entrepreneurs with engineering backgrounds often think they have the best product and the market will scramble for it. That is the biggest mistake when you start a business.
CEO leadership
A startup is already halfway to success if it has a good CEO. Many startup teams have technological strength but they are going nowhere. In most cases, it's because they are unwilling to work with outside professional managers to help with their business operation. After a startup receives the first round of funding from an angel investor, it will have to develop the ability to raise additional capital by itself. In general, Chiu does not hire a CEO at the beginning but instead allows the startup team to experiment on its own. If they can't make it, Chiu will try to hire an outside CEO.
Entrepreneur characteristics: humble and coachable
According to Chiu, the most important characteristic of an entrepreneur is the willingness to stay humble, keep learning and engage professional talent. When Chiu was doing DRAM research, a few Japanese engineers were very humble so Chiu taught them everything he knew. Later when a Japanese firm got an outsourcing contract for computer chips, they analyzed the chip and came up with a better design than IDT's. The ability to take advice and communicate is another characteristic that Chiu places great importance on. An entrepreneur does not have to follow everything his mentor says but must be able to listen and communicate.
Execution of business model combined with strategy planning
A startup must have a clear business model and an understanding of how big the target market is, how strong the competitors are, what its own advantages are, how it is going to sell its products and what its market strategies are.
Concise business proposal
Venture capital funds get a lot of business proposals every day. They need to quickly determine whether a proposal has any potential so they usually just read the first page. As such, an entrepreneur looking to persuade venture capitalists must be able to present his point concisely on one page.
Japan's technologies
Familiar with the Japan industry, Chiu thinks although the Japanese marketplace has a reputation of being conservative, Japanese enterprises hold special technologies and are now gradually opening themselves up to partnerships with foreign businesses. The Taiwan manufacturing industry known for its agility and efficiency is a good complement to Japan. Furthermore, with Japan's trust in Taiwan, now is an ideal time for Taiwan and Japan to join forces. However, it will definitely take some time to build trust in a business relationship with Japanese firms.
The whole world is in search of the next unicorn. Hardware is Taiwan's strength but future growth may be limited if it continues to focus only on hardware development, said Chiu. Instead, by combining hardware and software (application) developments, Taiwan will embrace tremendous opportunities. Furthermore, Asia offers more room for growth than other regions in the world. Taiwan, with geographical advantages, is an ideal testing ground for problem-solving applications. Taiwan can also work with other Asian countries holding different advantages to complement each other.
But Chiu warned against putting too much emphasis on China due to market uncertainties there. Nevertheless, Taiwan startups should not hesitate to take the first step. "Just do it and you can always make adjustments later," he said.
(Editor's note: This is part of a series of interviews focusing on the problems and opportunities that Taiwan-based startups face. The interviewees are venture capitalists and angel investors from Silicon Valley and Taiwan.)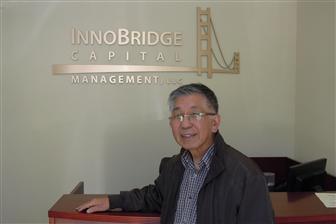 Chun P Chiu, senior advisor of InnoBridge Capital
Photo: Joseph Tsai, Digitimes, May 2018