7-Eleven opens unstaffed store in Taipei
Chloe Liao, Taipei; Adam Hwang, DIGITIMES
7-Eleven has opened its second unstaffed X-Store in Taipei, relying on AI (artificial intelligence) and IoT (Internet of Things) technologies to serve customers.
Customers are identified through either using an electronic wallet card or facial recognition via a biometric system equipped with NeoFace, an AI engine developed by Japan-based NEC. Upon identification, personalized words is displayed by a screen and spoken by a smart robot to welcome the customer.
A POS (point of sale/service) system integrated with image recognition technology can recognize merchandise items purchased by a customer for calculating total price. Prices of merchandise items, displayed on electronic tags on the shelves, can be remotely updated.
President Chain Store, which runs the 7-Eleven chain in Taiwan, opend its first unstaffed store in January 2018 at its headquarters initially for use only by its employees. The second store in Taipei is open to the general public around the clock.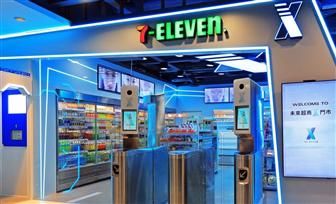 7-Eelven's unstaffed X-Store in Taipei
Photo: President Chain Store