Following a business re-organization in the second half of 2017, Gigabyte Technology is now looking to unifying all its products under the Aorus gaming brand, seeking to bring a consistent user experience, according to Gigabyte's Sales and Marketing Center vice president, Eddie Lin.
To expand Aorus' penetration, Gigabyte also recently entered several new component and product business segments and will release a series of devices for each of them to answer customers' demand. Digitimes recently had a chance to chat with Lin about the company's operation, the company's plans for the gaming businesses, and the cryptocurrency business opportunity.
Q: What is the latest status of Gigabyte's Aorus gaming product lineup?
A: Although Gigabyte has just gone through a business re-organization, the company actually has not changed much in terms of the basic business structure. Most of the changes are in the business culture.
In the past, Gigabyte's product development strategy focused on individual projects: we would complete one project before moving on to the next. We identified features and technologies our gaming customers would want and implemented them into our devices.
Now, the new strategy is to think how our products can echo one another all under our Aorus gaming brand. For example, our motherboards, graphics cards, mice and keyboards should all have a unified industrial design to build up the feel they belong to the same series, and the same concept also applies to our software user interfaces and user experience.
Most importantly, this feel of a unified series should also echo what our customers are seeking in their gaming products. Simply put, we want to let our customers feel that their positive experiences using Gigabyte's products are consistent, so whatever values they are seeking in any of Gigabyte's devices can also be found in any of our other products.
Since Gigabyte has already merged the desktop and all its component businesses into a unified gaming business group, we expect the process of synchronizing our product lines to be much easier than before.
For Aorus, in addition to our existing product lines including notebooks, motherboards, graphics cards, keyboards, mice and other peripherals, we have expanded the brand's product portfolio to include new devices such as monitors, solid state drives (SSD) and DRAM.
As for the desktop, Gigabyte continues focusing on developing its Brix series mini-PCs.
Q: What are the company's goals for Aorus gaming products in 2018?
A: The year 2017 was the beginning year of our Aorus gaming brand and for the second year, Gigabyte's main targets are to further refine the series by listening to and understanding the needs of our customers; to work with the customers to enrich the gaming ecosystem; and to expand the series both horizontally and vertically.
For the vertical expansion, we have been strengthening our marketing resources and approaches to improve related contents and materials. We also have created a mascot to represent the Aorus spirit.
For the horizontal expansion, cultivating deeper into each region is Gigabyte's main focus. For example, the company has opened several Gigabyte flagship stores in China for demonstrating and selling Gigabyte's hardware. We are also partnering with Internet cafes in China, decorating them with Aorus themes as a form of promotion.
Meanwhile, Gigabyte continues taking aggressive approaches to supporting e-sport events and is scheduled to host Aorus Open PUBG Tournament 2018 in June and July with gaming competitions to take place in several major regions including China, Taiwan, South Korea, Germany, the US and France.
The company is also increasing its resources for sponsoring e-sport activities in 2018. Gigabyte sponsored a total of nine major gaming events in 2017 and the number will rise to 12 this year.
In addition to sponsorships for downstream e-sport players, Gigabyte also has new partnerships with Intel and Nvidia. Gigabyte is currently working with Intel to push Core i+ series motherboards that natively support Optane Memory. These motherboards all come with 32GB of Optane Memory for enhanced CPU performance.
Customers will also continue seeing Gigabyte's exclusive technologies including RGB Fusion with Digital LEDs, ESS Sabre reference DAC music chip with audiophile Grade capacitors and Ultra Durable components in their favorite Gigabyte motherboards.
However, we are not satisfied by simply adopting the best components into our products. Our target is to study customers' usage habits and improve our components to meet the habits.
Despite the business re-organization and the management changes, Gigabyte is still the same Gigabyte and our user-oriented business culture and emphasis on product quality remain the same.
We have also been forming partnerships with other enterprises for some interesting gaming-related projects. Apart from Arous Open PUBG Tournament 2018, which has helped us established partnerships with several enterprises, we have also collaborated with Electronic Arts (EA) to release an energy drink in Germany with Aorus and EA product images on the can.
We also have been in talks over many other projects, but it is not yet time to reveal the details about them.
In addition to physical products, we have many cooperation cases with game streamers worldwide for product promotions and are also investing resources to launch marketing campaigns with upstream and downstream partners.
In the past, Gigabyte's promotion activities focused mainly on traditional channels, but since 2017, we have started to use more diverse types of marketing in different channels. With Gigabyte having integrated all its gaming-related businesses under the Aorus brand and the fact that we have shown our determination of running the Aorus brand, we have earned many invitations from worldwide businesses and gamers for gaming-related cooperation.
Q: What innovations or technologies will be unveiled or showcased at Computex 2018?
A: We do not have any new products for Computex 2018 as our upstream platform partners have not prepared any new products for the show.
However, we are showcasing our extended peripheral product lines under the Aorus brand including SSDs and memory and are displaying the full series of our existing Aorus brand products at our Computex booth.
Q: What is Gigabyte's thought on cryptocurrencies? Will ASICs have some impact on graphics card demand from the cryptocurrency industry?
A: Cryptocurrencies are one of the applications of the blockchain technology and the technology is becoming a popular topic in the IT industry. To fairly distribute the cryptocurrencies to users, mining has become one of the main methods for the system to give out the digital currencies.
However, mining is not the only way as there are also cryptocurrencies that have adopted other type of distributing methods.
In my personal view, blockchain actually has a lot potential and because of the technology's characteristic of creating records in multiple terminals. It is able to significantly limit a trading system's dependence on a center machine and eliminate many of the recording flaws seen on traditional systems. Compared to blockchain business in general, opportunities from cryptocurrencies are not as stable.
As for the rise in demand for cryptocurrency ASICs, I believe the growing popularity of ASICs will have some impacts on the cryptocurrency industry's demand for graphics cards, but the problem will not be as serious as many market watchers expect.
As I said before, cryptocurrencies are a rather unstable business. Each ASIC is created specifically for the calculation of one particular type of cryptocurrency and cannot be switched to support other cryptocurrency mining. This will give advantages to graphics cards, which can widely support any kind of cryptocurrency mining process. Most miners will be wary of the risks of switching all its machines to ASICs.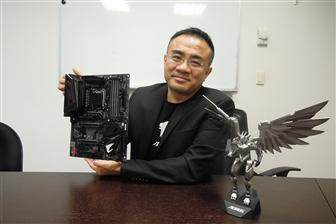 Eddie Lin, Gigabyte's Sales and Marketing Center vice president
Photo: Joseph Tsai, Digitimes, May 2018