Gearing efforts toward special-purpose power supplies: An interview with Rax Chuang, general manager, APD Power System Business Group
DIGITIMES staff
Leveraging robust R&D capabilities as well as manufacturing and customization flexibility, APD Group's long-term efforts toward the power supply market are generating results, allowing it to build up a significant presence in the global network, IT, consumer product and healthcare application markets. Many well-known world-class companies engage in long standing collaborations with APD, according to Rax Chuang, general manager, APD Power System Business Group.
Implementing the DFSS approach, APD upholds premium quality
APD's customization design capabilities are already market proven and its impressive achievements are backed by powerful R&D strength. Attaching great importance to research and development, APD employs an engineering team of more than 300 employees, representing 17% of its staff, and also allocates more than 5% of its annual revenue to research and development every year. Furthermore, to bring its critical product and manufacturing technologies to a whole new level, APD has fully engaged in Design for Six Sigma (DFSS) certification so that APD R&D engineers will implement systematic approaches throughout the product development cycle from initial design to volume production, delivering premium quality and guaranteeing high reliability of APD products.
It should be noted that although R&D strength, customization design and manufacturing flexibility are no doubt the most important factors leading to APD's recognition by international customers, the fact that APD takes corporate social responsibility (CSR) to heart also helps it win long-term partnerships with American and European companies. As a matter of fact, APD recently received the bronze medal award from Deutsche Telekom in recognition of its CSR achievements in labor issues, health and safety, environmental protection, code of ethics and management system.
Stepping up efforts toward the healthcare market
In terms of market expansion efforts, power supply vendors have been eyeing the healthcare sector as profit margins on power supplies for IT and consumer products continue to narrow. However, the conservative healthcare market imposes stringent requirements on safety and puts up a high barrier barring quick and easy entry. "We have been putting efforts in the healthcare sector for more than a decade. APD has accumulated competitive advantages that other vendors won't be able to match anytime soon," stated Chuang.
APD's efforts toward the healthcare sector have allowed it to obtain certifications for compliance with ISO 13485 Medical Devices Quality Management Systems Standards and IEC 60601 Safety Requirement for Medical Equipment, demonstrating APD products' high quality, high reliability and high safety standards fully meet the healthcare sector's demanding requirements.
APD now mainly provides premium quality power supplies for medical equipment including resuscitators, nebulizers and blood pressure gauges. Take resuscitators for example. Chuang emphasized that requirements on medical-grade power supplies with respect to protection against noise, electromagnetic interference and water are far more demanding than IT- and consumer-level power supplies. With years of continuing efforts in refining medical-grade power supply quality to keep up with diverse and stringent safety requirements, APD has engaged in collaborations with leading European, Australian and Japanese medical equipment providers. This is certainly a recognition of APD's R&D strength for medical-grade power supplies.
Going forward, APD will ramp up efforts toward the China healthcare market. "The China healthcare market is full of potential and multiple vendors are still competing for dominant market shares. APD will strive for early entrance and reap first-mover advantages," remarked Chuang. As part of such efforts, APD participated in China International Medical Equipment Fair (CMEF) 2018 and received positive responses. Its capability to provide flexible custom-designed medical-grade power supplies has caught market attention and APD expects this will lead to multiple partnership deals.
State-of-the-art labs help customers shorten time-to-market
For the purpose of implementing full control on the quality of power supplies for medical equipment and other devices and also helping customers accelerate time-to-market around the world, APD has devoted tremendous resources to building the most advanced safety laboratories in the industry, including a UL lab and an EMC lab. Such establishments allow APD to keep abreast with the latest industry standards including IEC/EN/UL 62368, IEC/EN/UL 60950-1 and IEC/EN/UL 60065 in terms of product safety, EMC, energy efficiency and certification tests. Chuang specifically pointed out, "The significance of these state-of-the-art labs being in place is that APD's system operation and engineering capabilities can be 100% trusted."
Commenting on the company's long-term outlook, Chuang affirmed, "APD will continue to focus on R&D of critical technologies, refine customization design capabilities and raise manufacturing efficiency to provide worldwide customers with the most competitive power supply products and services and establish itself as a leader in its target market segment."
At Computex 2018, APD will showcase a diverse range of power supplies for network communication devices, consumer electronics and medical equipment as well as custom-made power supply solutions. Visitors are welcome to the APD booth for more information.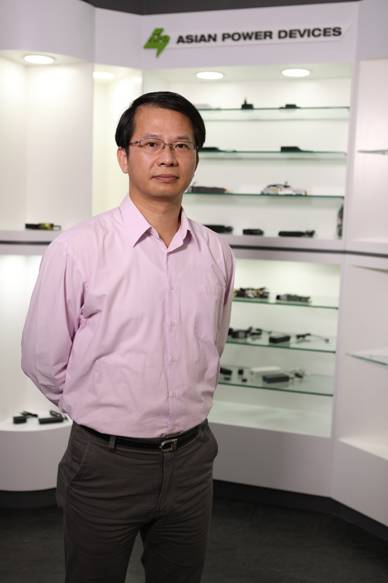 Rax Chuang, general manger, APD's Power System Business Group
Photo: Company