VIA Labs announces immediate availability of USB-IF certified Power Delivery 3.0 Silicon
Press release
With the finalization of USB PD 3.0 Programmable Power Supply (PPS) protocol last year and mobile phones widely adopting USB-C interface, the unification of standard for mobile devices will not only drive fast charging opportunities, but also create new use cases and mobile device peripheral requirements. In response to the trend, VIA Labs Inc has taken the lead to launch certified USB PD 3.0 solutions, aiming to help customers quickly enter the market with complete reference designs.
"In order to fulfill the increasing needs for thinner and lighter phones, faster charging speed, and full-screen display, new mobile phones will not only adopt USB-C interface, but will also eliminate the traditional 3.5mm audio jack," said David Hsu, associate VP of Product Marketing, VIA Labs, Inc. "The trend will become prevalent gradually from high-end phones down to middle-range phones, which will definitely drive opportunities for new peripherals, such as USB-C headsets, dongles, and docking stations."
A mobile phone with only one USB-C port and no audio jack will create some use cases that are different from current consumer habits. The most common one is the need to charge and listen to music at the same time. Therefore, new types of peripherals are required to provide more convenient user experience. According to Hsu, "For a long time, peripherals have played the role of 'extending possibilities,' and VIA Labs is devoted to providing more use cases to further extend USB-C's diverse functions."
With the concept of 'Extending More Possibilities,' VIA Labs is committed to developing silicon solutions for various application scenarios, so that mobile phone makers can use them to create higher values and differentiated features for their peripheral devices, in a bid to meet consumers' practical application requirements and to create better user experience.
Take VIA Labs VL104 DisplayPort Alternate Mode controller as an example, it integrates one upstream USB-C port and two downstream USB-C ports to form one combination package, App6 reference design. The two downstream ports can support both charging and the headphone to enable intelligent interchangeable functions. It is a design that truly meets and even optimizes user experience. In addition, VL104 integrates buck-boost converter on a single chip to dramatically reduce the PCB size. As a result, designing more varied, compact and smaller peripheral devices has been made possible.
For USB-C power adapter applications, VIA Labs has introduced a highly integrated VP302 chip, which is optimized for next-generation USB-C wall charger and power adapter applications that support real-time finely adjustable voltage and current output. The new Programmable Power Supply (PPS) capability is the foundation for several new fast charging methods that promise not only more rapid charging, but also lower device temperature when compared to legacy methods. VIA Labs VP302 has obtained USB-IF PD 3.0 certification.
Before the specification of fast charging for mobile phones is unified, every mobile phone manufacturers will have their unique specification for fast charging. Though it is convenient in a short term, in a longer term it will cause damage to mobile phones due to adapter mismatch. After the finalization of USB PD 3.0 PPS protocol, we will see USB-C fast charging and manufacturers' own technologies coexist in the near future. It is expected that USB-C fast charging will eventually hit the mainstream as consumers get used to using any USB-C-based power adapter to support different brands of mobile phones.
Delivering 'combination-package solutions' based on application scenarios of consumer needs
In order to confront the fiercely competitive USB-C silicon market, VIA Labs chose to target at dongle and hub applications that were not so prevalent at the beginning. With correct strategy of emphasizing improvements to user experience and providing complete turnkey solutions, VIA Labs has successfully helped peripheral makers move into mass production quickly, and its products have also been adopted by Huawei, Nintendo and other internationally renowned manufacturers.
"We aim to provide combination 'packages' for various application scenarios. With the diverse functions of USB-C, we have developed seven reference designs for App1-App7 use cases, covering from simple video dongle, the combination of data, video, audio, and charging, to multi-function dongle with any port charging through. Now, the term, App1-App7, has become a common usage in the industry," said Hsu. "For example, VL104 can be used to support App6/App7 use cases. Just like ordering meals from MacDonald's, our customers can easily and quickly get their wanted designs by simply telling us the number (App1-App7)."
As the development of USB-C is taking off, creation value will be a key to success in the market. With the penetration rate of USB-C in mobile phones gradually increasing, phone makers will try to provide better standard peripherals to create differentiated features. Once consumers' habits are established, the demand for third-party peripherals will also rise.
To address the need, VIA Labs will strengthen cooperation with phone makers to further explore the mobile peripheral market by conceiving possible use cases and providing them with diverse design options. For example, by fully leveraging the advantages of USB-C interface, docking stations can be used as an extension of voice assistant for mobile phones to enable the functions beyond listening to music and charging. This, again, demonstrates the concept of "Extending More Possibilities." Hsu is also optimistic that more new application scenarios and requirements for USB-C will pop up, and the business outlook for the market is very promising in 2019.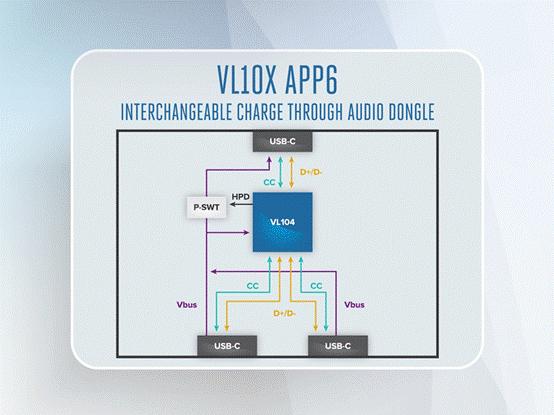 VIA Labs' VL104 supports APP6: Interchangeable charge through audio dongle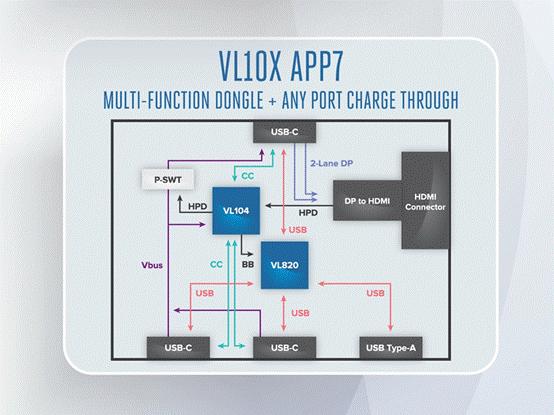 VIA Labs' VL104 supports APP7: Multi-function dongle + any port charge through
DIGITIMES' editorial team was not involved in the creation or production of this content. Companies looking to contribute commercial news or press releases are welcome to contact us.