Both OEM and brand-name electronics manufacturers trying to shorten time-to-market have to develop capabilities to expedite time-to-production so that they can maintain an edge over competitors by being able to make products in mass quantities, with high yields, and at continuingly reduced costs for a chance to win market support. This applies to manufacturing of all sorts of products and also to the emerging IoT industry where products feature low volume and high mix with constant challenges on testing technologies.
How to find the best solution to product testing is an industry-wide challenge. LitePoint endeavors to help Taiwan-based manufacturers in the search for innovative thinking on testing technologies and offers complete solutions by convening a forum every six months.
The 2015 LitePoint forum featured two sessions on July 21 and 23 respectively in Hsinchu and Taipei, both of which centered on how LitePoint wireless testing technologies can be used to raise efficiency of testing during production and function verification during product design, and to offer complete testing solutions targeting emerging IoT trends. To propose an ideal testing solution, LitePoint started the forum with the message, "What is the value of testing?" presented by Adam Smith.
The real meaning behind testing is the pursuit for product quality
In his presentation, Adam Smith, Director of Product Marketing at LitePoint, started out by outlining the importance of testing as it ensures product quality. A product without quality has neither market opportunity nor a chance at succeeding, regardless of whether it is a master design, ingenious creation, or monumental work.
Wireless transmission technologies are advancing by leaps and bounds. Take a 4G smartphone for example. The product design has to take into consideration the number of frequency bands likely to grow from five to over 20 by next year and additional support for two to three wireless transmission standards including WiFi and Bluetooth, requiring a total of eight antennas in general. Moreover, 30% of new phones on the market next year are expected to come with dual SIM card support so the testing items will also have to include WCDMA and GSM. It will definitely take a tremendous part of production time to test products integrating all these complicated functionalities on a small device, covering transmission over all the wireless channels, and supporting different chipset modules. This will result in an increase to production costs and therefore impact profitability. The situation calls for a provider that is capable of delivering total integrated testing systems and production solutions.
Similar to the case of handsets, testing for WiFi devices is also very challenging. Additional antenna testing conditions are required for the 802.11ac Wave 2 standard with MU-MIMO and Beamforming. Furthermore, WiFi transmission in competition with LTE for the 5GHz frequency is error prone, so testing is essential to ensuring product quality and thereby upholding brand reputation.
DUT Sense, Fixture Health Check, and APLC help build up production lines and enhance overall testing efficiency
Today we see over 1 billion smartphones manufactured on the production line every year and each one has more antennas that need to be tested and verified on different testers. As such, it is natural that manufacturers are very calculating about the time required to do the testing and also the space needed to set up the testers, the arrangement of the jigs and operation dynamics.
Through continuing communication and work with customers, LitePoint has developed a set of new tools that help customers improve their testing station configurations including equipment, wiring, and jig check. Before complicated DUT goes on the line, software tools including DUT Sense that performs calibration, Fixture Health Check that checks jigs and probes, Automatic Path Loss Calibration(APLC) that examines cabling and connection efficiency assist customers with the essential preparation for setting up a testing station on a production line.
zSeries meets challenges regarding function verification and manufacturing for chip designers and system assemblers
A mobile phone's user experience is determined by its performance with respect to signal reception and power efficiency, which is related to the RF FrontEnd(RFFE) design. A general 4G phone for use around the globe has to comply with a variety of 4G transmission specs in different countries and support over 40 frequency bands. With the 5GHz frequency soon to join the competition, chip developers are struggling with challenges arising from the complexity of multi-mode multi-band testing and therefore are in need of help from providers of RF modules. Testing tools that can facilitate IC design houses to verify functions of their chips or enable system assemblers to test RF modules become very valuable.
The PA/FEM solution provided by LitePoint zSeries focuses on testing of power amplifiers and RFFE modules. In addition to different chip specs used in RF FEM modules, additional verifications required by signal processing, such as dynamic EVM, ACLR, PAE, RF output power, DC power supply, and channel frequency, are also scanned and tested. Furthermore, special verification processes including Digital Pre-Distortion(DPD) and Envelope Tracking(ET) needed during design are also incorporated. LitePoint's product application manager for zSeries stresses that the consideration about testing not only encompasses accelerating the verification process but also ensuring the end product performance matches brand reputation on quality. This can be achieved by zSeries that delivers a flexible combination of automatic testing platforms satisfying requirements by both design verification and manufacturing applications.
Innovative IoT applications inspire new testing thinking
Innovative applications and new startups are flourishing with booming IoT developments and are attracting attention from consumers and investors. However, IoT is still at a stage where a multitude of companies are competing against each other and the key to winning lies in the user experience and product design as well as aesthetics. From a technological perspective, under the surface is a contention among a host of wireless transmission technologies, Big Data analytics, and software platforms provided by tech alliances and group leaders. Therefore, we will likely see integrated technologies continue to emerge.
LitePoint's presentation showed a series of wireless technologies that are likely to be integrated, including BT4.2, WiFi, ZigBee, WiSUN, Z-wave, NFC, and LTE Cat0, each with its own advantage. It is still unclear which wireless technology will become dominant. WiFi and related standards are promising as they are widely used but power consumption remains an issue. New WiFi 802.11ah spec attempts to reduce power consumption but is still at draft stage. BTLE, ZigBee, WiSUN, and Z-wave have an advantage in terms of power efficiency but data transmission rate needs improvement. NFC is most special in that it is more like an inductor coil of a transformer than a wireless protocol. However, its security feature surpasses all the others so people highly anticipate the technology but it is still unclear if NFC will stand out and become dominant.
LitePoint's product manager raised as many as four questions at a time about IoT device testing. Can you make money only by cutting corners? Does testing necessarily cost you an arm and a leg? Is RF testing undoubtedly difficult? Is it enough to do simple Go/NG DUT testing? Everyone may have different answers to these questions. However, LitePoint solutions will definitely offer you a more positive answer for your IoT device testing.
Evolution of 802.11ac Wave2 and new challenges in testing VHT 160, 1024QAM, and Beamforming
Mainstream chip vendors providing 802.11ac Wave2 chips remain a minority as the market development is still at infancy. However, LitePoint is closely watching the trend to help customers create differentiating product features and capture new opportunities. Beamforming uses constructive interference generated by signals from multiple antennas and concentrates beams in the direction of the client device. Signal coverage in the direction of the client device can be increased to help WiFi AP signals penetrate through walls. Beamforming comprises Explicit and Implicit Beamforming based on the spec. Implicit Beamforming (IBF) assumes downlink and uplink channels have the same conditions and only uses uplink signals for channel estimation, which is then used for downlink signal compensation. However, such an assumption does not work in the real environment so Explicit Beamforming (EBF), dynamically performing channel estimation on both uplink and downlink channels and then making signal compensation, is developed to achieve better beamforming effects.
Beamforming is very sensitive with respect to phases. PCB using different components for receiving and transmitting circuits will result in phase differences in uplink and downlink signals so production of devices with the beamforming technology requires beamforming calibration to ensure the differences will not affect beamforming performance. Furthermore, special care has to be taken regarding different beamforming calibration algorithms used in chips from various vendors. LitePoint IQxel-M8 can adjust to different chip vendors' beamforming calibration methods, thereby giving considerations to a variety of testing requirements.
LitePoint's IQxel-160 and IQxel-M16 solutions additionally cover testing for some new technologies not included in 802.11ac, such as 1024QAM. In particular, IQxel-160 has become a standard tester for almost all mainstream chip developers attributing to LitePoint's long-term cooperation with chip makers, which in turn benefits other LitePoint customers as well.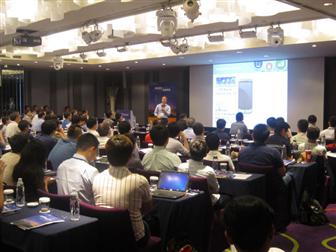 Adam Smith, Director of Product Marketing at LitePoint, presenting views on technology trends and values of wireless testing at the forum