Starting out as a coating resin supplierin1964, Eternal Materials Co., Ltd. has since developed various products making use of synthetic resins, special chemicals and precision coating technology, supplying chemical materials of stable quality to the industry for more than 50 years. Eternal Group has become the largest supplier of dry film photoresist supplier in the world, as well as one of the global top-three suppliers of UV curing materials and the leading supplier of synthetic resins in Asia.
Eternal Materials is committed to sustainable operations in diverse businesses. The Group spends at least 3% of its revenue each year on research and development, and keeps developing materials with broad applications catering for more industries and business fields. In the next five decades, Eternal Materials will continue making forays into the domains of touch materials and equipment, photoelectronics, solar energy, energy savings, and bio-medical materials, aspiring to become a more comprehensive material supplier.
Eternal Materials Co., Ltd. consists of three business groups: Resins Materials Business Group, Specialty Chemicals Business Group, and Electronic Chemical Materials Business Group. Ever since 1985, Eternal has established a strong presence in the consumer electronics industry with offerings of printed circuit boards, dry film photoresist, and films for touch panels. Moreover, the firm has developed various touch materials in recent years. Due to its huge success at optoelectronics tradeshows and mass production of related products, Eternal has been certified by many customers, making inroads into their supply chains. At the upcoming International Touch Panel and Optical Film Exhibition from August 26-28, 2015 (Taipei World Trade Center Nangang Exhibition Hall 1F, No.K1116), Eternal will be presenting its latest touch solutions. Plenty of products will be showcased, including adhesive materials for touchscreens (liquid optical clear adhesive, optical gel without substrate, thermal sensitive mask, UV-sensitive peelable mask, TOL temporary bonding, OSG protect coating, LR surface treatment coating), films for touch applications (protect film, anti-scattering film, hard coating, photoimaginable coverlay, anisotropic conductive film), and photoresist materials (dry film photoresist, transparent photoresist, dry film PI).
Apart from the above-mentioned products, Eternal Group acquired Nichigo-Morton Co., which is now called Nikko-Materials Co., Ltd. in April 2015, equipping itself with capabilities in the manufacture of fully-automatic, semi-automatic, and customized vacuum laminator machines. Eternal also offers toll coating services. Eternal offers one-stop shopping services to satisfy clients' needs for different products and services, ranging from thin-film materials for IC substrates, PIC materials for FPC, to OEM services.
With a firm belief that it should be rooted in Taiwan and based in Asia while embracing the World, Eternal Group is headquartered in Kaohsiung with a vision to expand its business reach worldwide. Aspiring to become an international supplier of materials, Eternal is confident of its ability to precisely predict industrial trends and discover the demand from new markets. Eternal will devote even more efforts to research and development, and leveraging its technology and manufacturing prowess, as well as its extensive sales channels, Eternal Group will constantly provide high-quality products and the best service.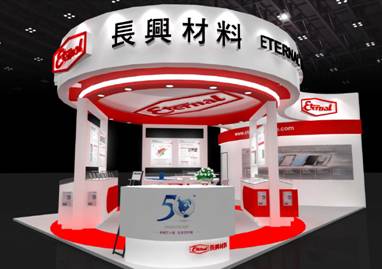 Eternal Materials attend to Touch Taiwan 2015