A battle, which has been given the title #GamerGate on social media, between gamers and the gaming press has been ongoing for three weeks and is showing only minimal signs of losing momentum. But with the year-end holiday season approaching, the top-three console makers: Microsoft (Xbox 360 and Xbox One), Sony (PlayStation 3 and PlayStation 4), and Nintendo (Wii U and 3DS), as well as major publishers including Activision (Call of Duty), Electronic Arts (The Sims), and Ubisoft (Assassins Creed), will need to, at some point, start to make efforts to actively calm down the tensions and generate positive PR for the gaming community.
If not, they run the risk of seeing poor sales during the industry's peak-sales quarter, which could then have an knock-on impact on the consoles' key component makers and manufacturing service providers, including Taiwan's Foxconn Electronics (Hon Hai Precision Industry) and Pegatron Technology, in the first and second quarters of 2015.
Denial and isolation
What started out as an innocuous sex and bribery scandal involving, among others, a blogger at one of the gaming sectors' leading bloggs, exploded into controversy when those attempting to discuss the allegations were silenced on numerous seemingly unrelated gaming forums as well as link aggregators such as reddit.
The attempts to, as the gamers saw it, censor the discussion, only amplified interest (due to the so-called Streisand effect), and prompted members of a well-known image-board to begin digging deeper. Investigations rapidly uncovered an intricate web of undisclosed personal and financial links between numerous bloggers and the games-developers they were writing about and the developers' publicists, as well as allegations of corruption inside the judging body of one of the industry's prominent awards.
Anger
Outraged at the perceived lack of ethical standards erupted across social media eliciting an indignant response from a significant portion of the gaming press that "those complaining didn't understand how the industry worked". This battle of 140-characters grew increasingly acrimonious as the days passed and several prominent figures including game developers, critics and YouTube celebrities reported having received death threats and a barrage of insults and hate-speech.
The fact that a female developer and a prominent feminist social commentator where among those reporting to have been threatened was eventually picked up by the wider technology press as well as some mainstream media outlets including The Guardian and BBC News leading to a flood of articles and op-ed reports on the theme of "gamers are dead" as a cultural identity. By highlighting the fact that two women had been threatened, while ignoring the fact multiple males had also received the same threats, many of these articles argued that today's gaming culture was dominated by males, and as a result supported and even promoted misogynistic, racist, and other bigoted sentiments, leading to the endemic harassment of minorities in the community.
However, this attempt to paint the angry gamers as a bunch of sexist, homophobic, racist males who were raging at being forced to "become politically correct" was rapidly rebuked by females, homosexuals, transsexuals and other minorities who all consider themselves gamers in the thousands using the Twitter hashtag #notyourshield.
Bargaining
Attempts were made to "stop the hate" in the form of an open letter from developers to the gaming community as well as an online petition. Combined the two calls-to-action have, to date, received over 10,000 signatures, but the tensions go on and many gamers who feel incensed by the media's decision to not only refuse to capitulate and reform, but to in-fact lash back, has led to the formation of website blacklists in an attempt to "starve these sites of traffic and ad views" and an e-mail campaign to advertisers to force a boycott.
Depression
Although Microsoft, Sony, Nintendo and the publishers will have to navigate a political minefield in order to broker a resolution, the cost versus benefit of staying out of the argument grows less in their favor as time progresses.
Most of the gaming industry's revenues are generated during the fourth-quarter. The major publishers have for the past several years scheduled the release of the latest installment of their main game franchises in late October and November. These launches are preceded by multi-million dollar cross-media marketing campaigns which can bring the total development and marketing costs of a AAA game into the region of US$300 million, but they generate revenues double or even triple that amount within the first few days of the game's release.
Meanwhile, increased consumer spending in the fourth-quarter means the console makers see a significant uptick in shipments in the quarter. For example, Microsoft shipped 7.4 million Xbox console units into the retail channel, including 3.9 million Xbox One consoles and 3.5 million Xbox 360 consoles in the fourth quarter of 2013 (its fiscal second-quarter 2014). This was compared to two million Xbox console units, including 1.2 million Xbox One consoles in the previous quarter.
If gamers continue to actively disengage from the press over the coming months, it is not unreasonable to expect companies to see a significant financial impact in fourth-quarter 2014. Furthermore, if the gaming press continues to negatively portray gamers as bigots and hatemongers, many parents could be alarmed into crossing an Xbox or PlayStation off their child's gift-list and could perhaps choose to buy a tablet or smartphone instead, since these are more often perceived as casual gaming platforms. This would then accelerate the already emerging trend of these devices becoming the game industry's mainstream platforms.
Acceptance
Although it would be inappropriate for the major hardware vendors and games publishers to use financial pressure or other influence to force a particular editorial viewpoint onto the media, these companies can lend their weight of support by allowing company spokespersons and other prominent figures to discuss the issues openly, or by financially supporting causes, research and PR initiatives that promote a positive image of the gaming community. This has happened multiple times in the past when gaming has been linked to promoting violence or school yard shootings by the media.
Although representatives from these companies were not prohibited from signing the "stop the hate" open letter, so far there has been a distinct lack of people coming forward to share their views on-the-record. Meanwhile, anonymous (and therefore unverifiable) posts have been made on message boards claiming that there are people inside these companies that do wish to speak out, but they have been expressly prohibited from doing so. Lifting this vow of silence would have a dramatic effect on opening the dialog on the issues.
Several causes that promote the image of diversity in the gamer community have risen to prominence as a direct result of the civil war. A charity game jam (a type of game development competition) has received support in its attempt to raise US$65,000 to develop and produce one of five game concepts originally conceived by female gamers. A direct donation to this charity, or an indirect promotion via an "I am a gamer" sale, would increase the profile of this cause and potentially allow more than one game to be produced.
Meanwhile, the NotYourShieldProject is a worldwide, multimedia initiative to show the diversity of gamers in the form of image collages and videos. With industry backing, this project could be nurtured and leveraged to generate positive PR for the games industry.
Finally, the idea of a help-group to give advice and support to victims of online harassment has been floated. Support for this or existing anti-bullying support groups could be another opportunity to generate positive news.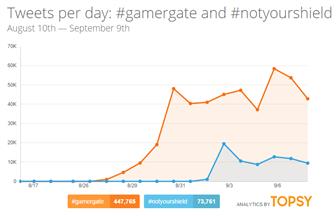 Tweets per day of #gamergate and #notyourshiled recorded by analytics service Topsy
Photo: Digitimes, September 2014