Hewlett-Packard (HP) has unveiled a new-generation all-in-one workstation with a 27-inch diagonal display, the HP Z1 as well as its new all-in-one PC products including one featuring Android at the CES 2014
Ideal for knowledge workers and specialists in CAD, graphic arts and university education, the HP Z1 G2 offers fast data transfer speeds for compute-intensive workloads and new technologies like Thunderbolt offer the flexibility for high-performance external expandability.
The HP Z1 features Intel integrated HD graphics, fourth-generation Intel Xeon and Core processors, ECC memory, and RAID storage options, providing users with more reliability and performance. Additionally, the HP Z1 features the latest Nvidia Mobile Quadro GPUs for professional use.
The new HP Z1 G2 workstation is expected to be available in late January and priced starting at US$1,999.
Meanwhile, HP is also showcasing three new all-in-one PCs at the CES 2014 show, the Android-based Slate 21 Pro AiO, the ProOne 400 AiO G1 and the HP 205 AiO.
The HP Slate21 Pro AiO is designed for productivity in office, education and kiosk environments. It features a 21.5-inch Full HD IPS touch screen with wide 178-degree viewing angles, plus a comfortable and intuitive Android touch experience. Its stand design allows up to 70 degrees of adjustable recline and optional VESA mounting, making it flexible for a variety of work environments.
The HP Slate21 Pro also packs the performance of Android 4.3, an Nvidia Tegra 4 quad-core processor, 8.11 a/b/g/n dual band wireless, Bluetooth 4.0, integrated high-definition (HD) webcam and access to more than one million apps on Google Play.
The HP ProOne 400 AiO is available as a 21.5-inch touch version and a 19.5-inch non-touch version, allowing businesses to choose the device that suits their space and user experience requirements. It can be mounted to the wall, an arm, a cart or other accessories with standard VESA mount.
The HP ProOne 400 AiO is a connectivity hub, featuring a rich video- and audio-conferencing experience with an integrated Skype-ready webcam and microphone, business-class speakers and DTS Sound+ audio software. It also includes a DisplayPort for adding an external monitor and side USB 3.0 ports for additional accessory connections - including one fast-charging USB port, which is ideal for quickly charging tablets or smart phones. Users can also share their internet connection with up to five devices using HP Wireless Hotspot.
The HP ProOne 205 AiO features an 18.5-inch diagonal HD, WLED-backlight antiglare display that tilts to allow for placement, helping users create an ideal workspace or create a well-rounded customer experience.
The built-in webcam and array microphone allow for enhanced connection and communications, including instantly reviewing photos and video clips. The device is powered by AMD's E-series dual-core processors for enhanced performance.
The HP Slate21 Pro AiO is available on March 6, 2014 in the US with a starting price of US$399, including keyboard and mouse. The HP ProOne 400 AiO non-touch and touch are now available globally with respective starting prices of US$649 and US$799. The HP 205 AiO is available in select countries with a starting price of US$449.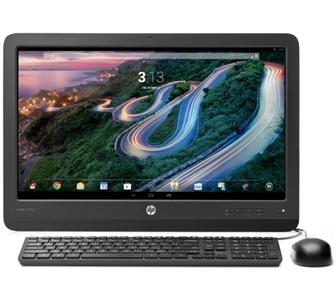 HP Slate 21 Pro AiO all-in-one PC
Photo: Company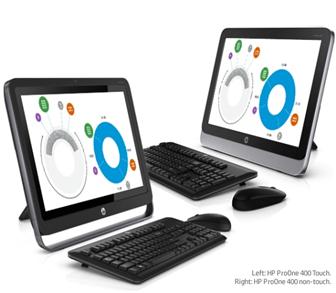 HP ProOne 400 AiO touch (left) and non-touch (right) all-in-one PCs
Photo: Company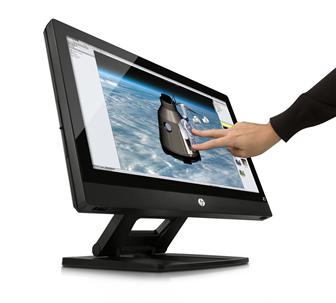 HP Z1 G2 all-in-one workstation
Photo: Company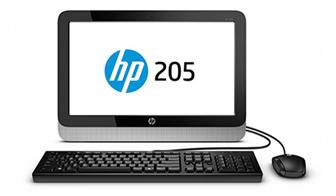 HP ProOne 205 AiO all-in-one PC
Photo: Company