The all-in-one (AIO) PC industry has seen a wave of replacement demand after Apple updated its ultra-thin iMacs earlier in 2013, boosting global AIO PC shipment growth from 2.3% in 2012 to 15.8% in 2013. Digitimes Research expects a milder growth of 4.9% in 2014 after the replacement demand subsides. AIO shipments will account for 11.5% of global desktop shipments in 2014, rising 1pp on year.
China's AIO PC market has been gradually approaching maturity in 2013, during which Lenovo has lost its number-one position to Apple and is also expected to have difficulties achieving further growth in 2014. Dell and Sony, which are the fourth and fifth largest, are expected to see significant growths in their 2013 shipments, according to the latests data collected by Digitimes Research.
As for OEMs/ODMs, most makers are expected to achieve on-year growths for their AIO PC shipments in 2014. Quanta Computer and Compal Electronics will see growths between 6-8%, while the rest will have growths lower than 5%.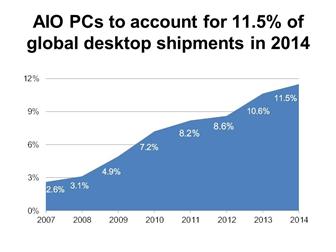 Source: Digitimes Research, November 2013