FTDI solution integrates display, audio and touch
Jessie Shen, DIGITIMES, Taipei
While a majority of the total touch panel shipments is still taken up by the mobile phone sector at present, those shipped to other applications are on the rise. Fabless firm FTDI Chip has introduced a graphic controller that integrates display, audio and touch functions for any product with an information-oriented human-machine interface, from e-book readers, white goods control panels to medical devices, public transport systems, and beyond.
Headquartered in Glasgow, FTDI Chip was established as a developer of USB interface ICs. The launch of its EVE (embedded video engine) family demonstrates the firm's ability to diversify into new markets and products.
The current touch-enabled display systems usually require a whole heap of silicon with a multitude of different chips, each having a relatively high pin count, said Dave Sroka, global product director at FTDI. This impacts on the overall bill of materials, mandates a large area of board real estate, and results in extensive power requirements.
Sroka indicated that the initial offering in its EVE family, the FT800, is targeted at cost-effective QVGA and WQVGA TFT display panels. The object-orientated approach of FTDI's graphics controller eliminates the expense of traditional frame buffer memory as it renders images in a line-by-line basis with 1/16th of a pixel resolution.
The FT800 is an SoC combining display, audio and touch functionality, providing an optimized solution that reduces power, board area and BOM costs, Sroka noted. Engineers are able to easily create their desired graphic user interfaces (GUIs) for a range of interactive display systems, such as an 8-bit microcontroller based processor for a GUI with smartphone-like graphics, Sroka said.
In a space-saving 48LD QFN package, the FT800 is capable of providing 24-bit (true colour) support on an 18-bit interface. The chip comes preloaded with a useful set of fonts and sounds on its ROM to further facilitate completion of the development process as quickly and easily as possible, Sroka said.
Display systems with touch and audio functionality are breaking into a far greater variety of application environments, Sroka observed. A more integrated design is more needed to reduce the amount of data that must be transferred, and keep the number of chips involved and the board space taken up to minimal levels, Sroka said.
In addition, Sroka disclosed that FTDI's R&D center in Singapore and regional branch offices and distributors in other countries in Asia provide technical support to key customers and field engineers. The Asia market now accounts for about 30% of company revenues, Sroka said.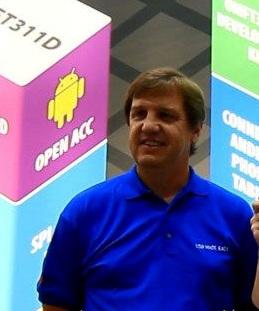 Dave Sroka, global product director at FTDI, talks about a new approach to intelligent display design
Photo: Company